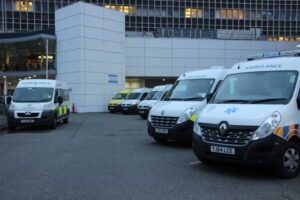 Shocking statistics of violence and aggression towards ambulance staff have resulted in the children of North West Ambulance Service (NWAS) workers to raise awareness for their parents in the 'Behind the Uniform' campaign.
Figures reported by NWAS NHS Trust showed incidents of verbal abuse and threatening behaviour from members of the public have risen from 608 in 2014/15 to 755 in 2015/16 – a 27% increase.
NWAS has also seen an increase of physical assaults by five per cent this year, from 371 recorded attacks in 2014/15 up to 390.
However, NWAS NHS Trust told JMU Journalism that figures involving physical assault and threatening behaviour by patients in Merseyside have witnessed a drop since last year. Acts of verbal abuse only slightly increased from 56 to 59.
The campaign sparked attention as videos featuring the children of staff expressing their reactions towards people being 'mean' to their parents were posted on YouTube as part of the appeal.
YouTube: North West Ambulance Service
Although emergency ambulance crews are the main targets of such abuse, staff working for the non-emergency patient transport service, call centres, and 111 operators have all reportedly been ill-treated by the patients.
The Trust aims to highlight this aggressive behaviour and remind the public how these acts could both physically and mentally harm their workers.
Caroline Turner, Communications Officer for NWAS NHS Trust, told JMU Journalism: "The campaign is to help reduce the number of abusive incidents but we realise that there are incidents where the overriding factor is the medical condition itself. Mental health problems, head injury and seizures can all lead to patients acting aggressively, but our staff are fully trained in recognising these conditions and how to deal with them.
"We also train and help managers and supervisors to identify stress in their staff so they can have those constructive and supportive conversations to make sure they get the advice they need."
For the next two weeks, the campaign will be highlighted on social media platforms to emphasise the growing number of violent crimes, by using the hashtag #BehindTheUniform.
"She pulled my pony tail, grabbed my shoulders, hitting my head on the door frame." – NWAS staff member #behindtheuniform

— NWAS NHS Trust (@NWAmbulance) November 13, 2016
"I got punched, kicks to my head, arms, back & legs. It took 3 police officers to res

train him" – NWAS staff member #BehindTheUniform

— NWAS NHS Trust (@NWAmbulance) November 14, 2016
#behindtheuniform #northwestambulance Our Son-we both work for the service and have been subjected to abusive calls and abusive patients pic.twitter.com/JV1x7lXv8C

— Angela (@angllama76) November 10, 2016