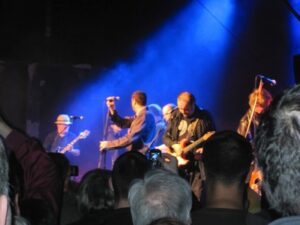 The faithful crew of the Justice Tonight tour, and some special guests, made it a night to remember in Liverpool.
Mick Jones, John Power, Pete Wylie and Peter Hooton all joined together to bring attention to the campaign for the 96 Liverpool fans who died at Hillsborough in 1989.
After touring in Cardiff, Manchester, Sheffield and London, they arrived at Liverpool University with the message to carry on fighting for the truth, and shouts of "justice" were regularly repeated throughout the night.
Despite the serious context of the gig, it was also three hours of excellent rock and roll music. Cast, the Farm, Pete Wylie from Mighty Wah, and Mick Jones from the Clash all performed some much-loved hits, such as 'Come Back', 'Heart As Big As Liverpool' and 'London Calling'.
John Bishop made a guest appearance with his karaoke-style version of 'Daydream Believer' and Billy Bragg performed 'Never Buy The Sun', which developed into the first great singalong of the night.
A rousing finale saw everyone join together on stage for an outstanding rendition of the Farm's 'All Together Now', which had every member of the audience singing along.
Also in attendance was former Liverpool player Jimmy Case, who summed up the event: "I think this has been a fantastic night. The way they've gone around the country and actually performed, got together and they don't charge anything.
"Everybody was so intense and the atmosphere was unbelievable. I know it's in Liverpool and I know the reason for doing it, but they've had a great reception in Manchester and everywhere on the tour.
"It was a fantastic evening! I think that the actual cause –  the 96, Liverpool people, the Scousers – we will never stop until justice comes out, and we will keep on going until we get a result."