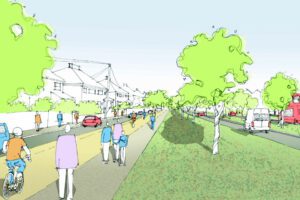 Controversial plans for a £250m bypass have been hit with a legal challenge after the courts granted Sefton Council's application for a judicial review into Highways England's proposals for Rimrose Valley.
HE wants to build a new dual carriageway to help cope with traffic heading to the Port of Liverpool docks area, but the council accused HE of failing to consult on a tunnel option and the High Court ruled in favour of a review.
Rimrose Valley is bounded by the Leeds Liverpool Canal to the east and the Southport to Liverpool railway line to the west, with local traffic congestion at the heart of the matter.
The ongoing dispute about what to do with this area has come to a standstill, as HE said it was "disappointed" at the ruling, but campaigners say it is vital that local people "get a proper say".
Leader of Sefton Council, Cllr Ian Maher, said: "I'm pleased that the court has granted us permission to proceed with our application for a judicial review to look into what we believe is a flawed consultation by Highways England when they decided that their preferred option was to build a dual carriageway through Rimrose Valley.
YouTube: Shaniece Thompson
https://www.youtube.com/watch?v=mnO7HLjS7bE
He added: "Our case has been deemed to have enough evidence to take legal action and we'll now prepare a strong case for the judicial review.
Si Smith from local environmental group, Rimrose Valley Friends, told JMU Journalism: "We are extremely pleased that the courts have seen this and are allowing judicial review. We hope that this leads to better solutions being put forward."
Stuart Bennett, also from Rimrose Valley Friends, said: "We are working on a wide range of actions to draw attention to what is happening to Rimrose Valley. We will continue our efforts and we will look forward to bringing the community together in opposition to the road."
A spokesperson for HE said: "We are obviously disappointed that this issue will now proceed to the High Court, not least because of the inevitable delay this will mean in delivering this vital investment in the Port of Liverpool route and the benefits we believe it will deliver for people in the area as well as the local and regional economy."