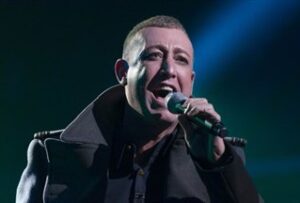 Liverpudlian X Factor finalist Christopher Maloney is through to the next stage of the ITV talent contest after a turbulent week and a continued war of words between judges Gary Barlow and Tulisa.
It was reported that the 34-year-old had left his masterclass rehearsal with Take That and solo singer Robbie Williams to return home to Liverpool without authorisation.
On Saturday Night's Halloween themed X Factor, Maloney denied this, stating he had a valid excuse for his absence and that he'd been given permission to return home.
He said "that wasn't true" adding: "I did go to see my family because my nanna has not been very well so I went back, but I had the afternoon off."
The Liverpool Mutual Homes worker from Kirkdale told the Liverpool Echo he had a troublesome week in the lead up to Saturday's live show. He said: "'One of my best friends had a miscarriage, my nan hasn't been well and all this 'diva' stuff is still going on in the papers. It's hard to keep my spirits high, I feel down but I'm trying to keep my focus."
Maloney's performance on Saturday night's Halloween show saw him belt a self-assured rendition of Cutting Crew's 80s hit single 'I Just Died In Your Arms Tonight'.
Having been branded as "a diva" and "cheesy" by the judging panel in previous weeks, opinions were polarised once again. In the wake of his performance, disagreements continued to unfold between judges Gary Barlow and Tulisa.
The N-Dubz star posed the question to Gary: "How many more 80s songs are you going to let him destroy?"
Barlow replied: "I'm not sure what's offended me more… your comments or your fag-ash breath."
Sunday's results show saw Scouser Maloney go through to the next round in as the seventh and final act before the bottom two. This left boy band contestants Union J and singer Jade Ellis to perform in front of the judges for the final showdown, and the female solo artist was sent home.
Last week it emerged that Maloney, despite being a widely unpopular contestant with the judges, was said to be a shock favourite with the general public as he topped early polls.
Maloney will get another chance to attempt to win over all of the judges in next week's episode as he continues to muster local support and Scouse voting power.