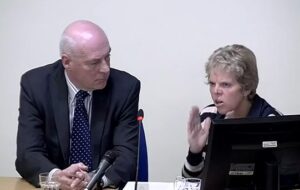 Celebrities have been queuing up to speak at the Leveson Inquiry, keen to dish the dirt on the tabloids that only a short while before had been dishing the dirt on them.
Hugh Grant, Steve Coogan, JK Rowling and Charlotte Church are just some of the stars who claim that the tabloids have ruined their lives with unethical practices. They are joined by those, who until tragedy hit their lives, were generally unknown, such as Kate and Gerry McCann, and Sally and Bob Dowler, the parents of murder victim Milly.
It was the revelation that, whilst police were searching for the missing Milly Dowler, that the News of the World was hacking into her phone and even deleting messages in order to make room for more, that really made the public sit up and demand action to clean up the press.
Although most people were fully aware that phone hacking had been previously used to find stories about celebrities, it was the news that those dragged into the limelight against their will and often in the most tragic of circumstances had had their privacy breached that finally set alarm bells ringing.
It was the Guardian's dogged investigations that finally showed that phone hacking was endemic at the News of the World and possibly at other newspapers as well, a claim supported by Hugh Grant at the Leveson inquiry; an inquiry sparked on the back of these appalling revelations.
So good journalism has proved its worth by exposing bad journalism, but why exactly is this bad journalism?
Not because phones were tapped, or data gathered illegally, nor because police were bribed. All of these acts are and were illegal and should have led to early prosecutions.
Whilst that lawbreaking made the inquiry inevitable and changes that will undoubtedly follow vital, it is the newsroom culture that not only allowed but seemingly encouraged such law breaking that requires seriously close scrutiny.
Leveson should be asking why journalists, with a few brave exceptions, feared to speak out against practices many abhorred; why police were nervous of investigating for fear of what it would reveal about them and why politicians who should act in our best interests, not their own or those of media barons only dared speak out after the Dowler revelatons.
One of the more amusing elements of the Leveson Inquiry was the speed with which politicians queued up to kick the press once it was down; the schoolyard bully finally getting his comeuppance.
The Leveson Inquiry has been set up, quite rightly, to look at the culture, practices and ethics of journalists as well as examine the press's links to police and politicians. He has been asked to consider regulation, with a careful steer that the Press Complaints Commission is no longer fit for purpose.
The PCC has never been fit for purpose, it was set up to protect the press and give a veneer of respectability. In the end, inevitably, when it was needed most, its defects became most apparent. It denied there was a phone tapping problem and turned that crime into a scandal when the evidence of its weakness was finally exposed.
Lord Justice Leveson faces months of tabloid bashing from celebrities, politicians and attention-seekers but it is vital that when he announces his recommendations that he promises a new future for media freedom in this country through a strengthened newsroom culture and does not seek a retribution for past failings that will end up damaging us all.
Professor Chris Frost is the author of several books, including 'Journalism Ethics and Regulation'.