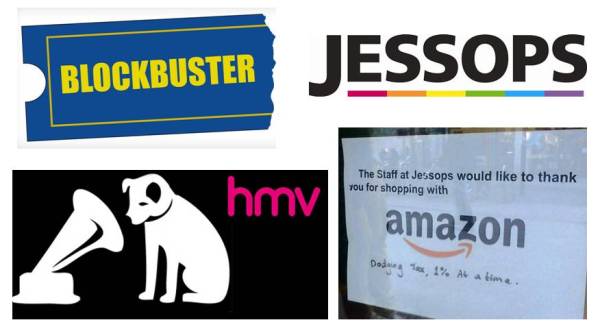 Three major high street stores have gone into administration in the space of a week, leaving jobs at risk for their workers on Merseyside.
DVD rental firm Blockbusters became the third big name retailer to announce their administration, following music and DVD outlet HMV and camera equipment chain Jessop's in signalling their financial collapse.
The Jessop's store in Liverpool caused a stir as a sign places in the window read: "The staff at Jessops would like to thank you for shopping at Amazon. Dodging tax 1% every time."
A photo of the sign went around Twitter, passed on by people such as the BBC's Jeremy Vine.
Deloitte, who have taken over as administrators of rival companies HMV and Blockbuster, and are looking for buyers to rescue the brand. It is believed that their collapse has been due to the increased support for online sites such as Amazon's Love Film and NetFlix, which allow customers to stream films.
With over 100 jobs in the balance at HMV stores across the region and 19 Blockbuster stores across Merseyside, the news has brought anxiety to many local workers. Jessop's has already closed the doors at all of its 200 stores in the UK.
This is a further heavy blow for retailers after JJB Sports and Comet announced their closure before Christmas.
Both HMV and Blockbustes now wait to see if a buyer comes forward as they remain open for business. Blockbuster will continue to accept gift cards after HMV announced they would not.
Additional reporting by Daniel Farrell