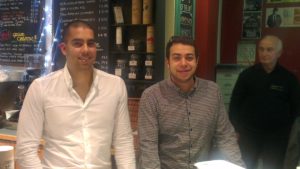 Two students behind a successful tea company are trying to help those less fortunate with their Back-a-Brew Foundation.
Third year LJMU Business and PR students Philip Perera and Omar Farag, are behind a loose leaf tea business, Teabox Company, which supplies as many as 30 cafes and restaurants in the city.
Their latest idea, Back-a-Brew, aims to 'enable those who are facing hard times the opportunity to enjoy one of life's simplest of pleasures-a warm cup I tea.'
The pair, who started their tea company two years ago, do this through donating vouchers to the Gladstone book shop and café. Every time a tube of their tea is sold they donate one voucher which is then passed on to those who need them most. At the launch Perera handed over 100 vouchers to get the scheme started.
He told JMU Journalism: "We came in here to supply to them but learnt more about the organisation and saw what they do and thought: 'How can we contribute to what they do? How can we help people who are having a bad time?'
"So we then came up with the Back-a-Brew Foundation. They do absolutely amazing work. Everyone enjoys and deserves tea, especially on cold days!"
The Gladstone has been on Slater Street, as a charitable organisation, since 1820. It was originally called the Charitable Institution House and is now a café and book shop which also works closely with people in need offering support, food, and now, free tea.
Gladstone's Peter Gray told JMU Journalism: "We're very proud to be associated with Back-a-Brew, the tea is very wonderful, it's very humbling to be part of it.
"We meet such a range of homless people it can happen to anyone, you can be at the top one day and then suddenly find yourself in this downward spiral, but everyone deserves a cup of tea."
Additional reporting by Jess Ball, JMU Journalism TV