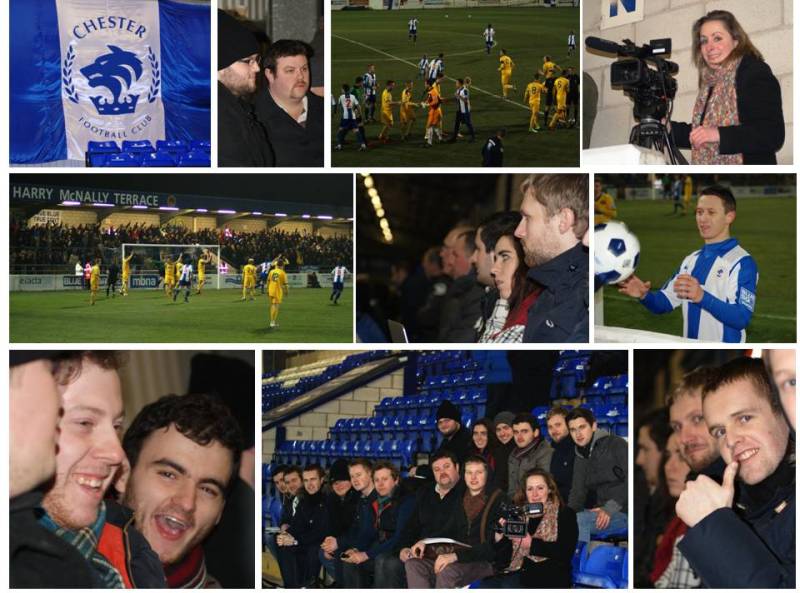 Fingers feeling frostbitten; hemmed in by bodies on every side; laptops balanced on knees; people screaming at a man wearing black.
It can only mean one thing: JMU Journalism is match reporting live from the heartland of football passion – the non-league game.
Our fresh-faced sports reporters joined experienced journalists in the stands of Chester FC's Exacta Stadium this week to put into practice what they have been training for since September.
Whilst third year sports journalism students have gleaned experience of match reporting techniques in class workshops, the live environment is some distance from the comfort of a newsroom and a television screen, with familiar faces on the pitch plus commentary and replays for factual back-up.
Submitting a fully-written report by the time of the final whistle is testing enough, but what about adding in the freezing winter temperatures of a Wednesday night in February and trying to type?
No, it's not easy.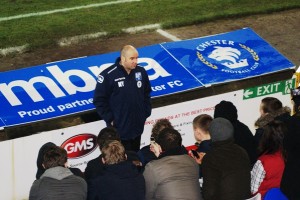 Chester FC are flying high at the top of the sixth tier of English football, looking for an unprecedented third consecutive promotion which would land them in the Conference.
Going up this season would put them just one step away from a return to league football only three years since being reborn from the ashes of the insolvent Chester City after they went bust in March 2010.
They gave their cause another boost by stretching their Blue Square Bet North League lead to 19 points with a hard-fought 3-1 win over Gainsborough Trinity in front of nearly 2,000 fans, with our sports crew covering the action.
JMU Journalism student Scott Fitzpatrick said: "You've got to stay focussed on what you're doing, even when people are jumping around in front of you. When someone scored the guy in front of me jumped up and I was trying to see what number shirt the scorer was wearing which made life difficult. You have to keep an eye on the game all the time."
Josh Killner appreciated what he'd gained from the sports journalism workshops before the night at Chester, saying: "In terms of the experience, what we've learned in class made the whole thing a lot easier. I got a lot written, perhaps too much, but got it all done in good time. In all honesty, there were a couple of times where I slipped up and didn't see something, but there were a couple of guys behind us who were reporting for radio so that helped."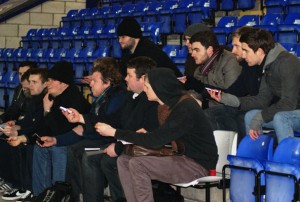 Josh added that he's taken on board what it means to be a reporter rather than a fan enjoying football from the stands.
He said: "There are times that you just want to watch the game and be involved in the atmosphere but that's all part of the professionalism, you have to get over it and get into the job and not get carried away. Tonight was just part of the learning curve."
After the match, the third years got the opportunity to interview the Chester manager, Neil Young, from pitch-side.
Ian Bolland was impressed by the man who has led Chester's remarkable resurgence to the verge of a third successive promotion.
Ian said: "Neil gave us a great insight into being a lower-league manager, which is something you just don't get in the mainstream media. Chester play some very nice stuff, and they're 19 points clear at the top but he's still not getting ahead of himself."