Journalism and Sports Journalism students at Liverpool John Moores University will be among the first in the country to benefit from a one-to-one mentoring scheme which has previously helped launch the careers of some of the UK's best journalists.
For the first time ever, the John Schofield Trust is teaming up with six universities from across the UK and Ireland to offer personal mentoring to up to ten undergraduate students to support them in developing the skills and experience they need to become successful journalists.
As part of the scheme, successful applicants will become John Schofield Trust fellows, gaining access to an individual mentor who aligns with their career goals, monthly masterclasses and other networking and development opportunities.
The students will join a growing network of 1,000 journalists who have been mentored or offered it themselves for the John Schofield Trust – including many household names from across the industry.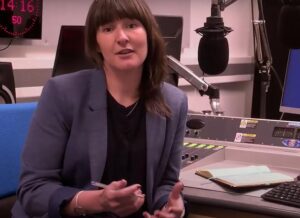 Polly Sharpe, Senior Lecturer in Journalism at LJMU, said: "I am hugely excited to be part of this pilot programme and to see the impact it will have on our students. We speak a lot on the course about how journalism is changing and looking to much better reflect and represent our multi-dimensional society.
"I hope that working with the JST in this way will give those students who don't always see themselves reflected back in the industry the confidence and support to realise they do have a place, do belong there and that their voice matters."
CEO of the Trust, David Stenhouse said: "Mentoring is transformative – the students who are selected for our new university mentoring scheme will gain direct access to established journalists at the top of their game and gain a real insight into what having a career as a journalist looks like.
"We're really pleased to have such a great range of universities join us on this journey, and we are excited that the Trust's mission to bring new talent and voices into newsrooms will now reach even more people."
Excited that @jmujournalism is a partner on this great project that aims to help diversify UK newsrooms. Brilliant opportunity for our talented students to learn from those doing the job already…and for industry to learn from them???? @LJMUOutreach @LJMUScreen @LJMUCareers https://t.co/9EYAovYfoj

— FranYeoman (@franyeoman) December 9, 2022