JMU Journalism and International Journalism students marked the completion of their three-year degree course on Monday morning, donning cap and gown in the sunshine at the annual graduation ceremony at Liverpool's Anglican Cathedral.
Sweltering temperatures welcomed our robed graduates, wearing their poshest frocks and suits – some of them last seen on a crown court reporting visit – along with family and friends to help celebrate.
Three years of hard work boil down to this day. However, it should not be forgotten that along with the academic and vocational achievements graduates have to raise a glass to, the personal development that comes hand-in-hand with three years at university and the friends that have been made are worth a ceremony in their own right, if not in the exact same attire.
LJMU Vice Chancellor Nigel Weatherill led the proceedings inside the grandiose Anglican Cathedral setting, and paid a light-hearted homage to the students' ability to wear such challenging footwear on the big day, saying: "How do you walk in those shoes?"
He added: "This is it. The day you have worked towards; the day you have dreamt about. You are here in this magnificent cathedral accompanied by parents, relatives, friends, receiving your awards. The sun is out, the Lions won on Saturday and we now have a Wimbledon Champion from Great Britain," to great applause.
The Vice Chancellor continued by highlighting the Liverpool John Moores ethos of 'Dream; Plan; Achieve', calling the skills learnt at university "life-long treasures".
He concluded: "LJMU will always be proud of what you have achieved as you graduate today, and I hope you will always be proud of LJMU."
Having successfully navigated their stage appearances without so much as a hint of a stumble, the newly-anointed graduates gathered to fling their caps in the air on the cathedral steps for photographs before remembering that the graduation kit had to be returned, so promptly picked them back up again.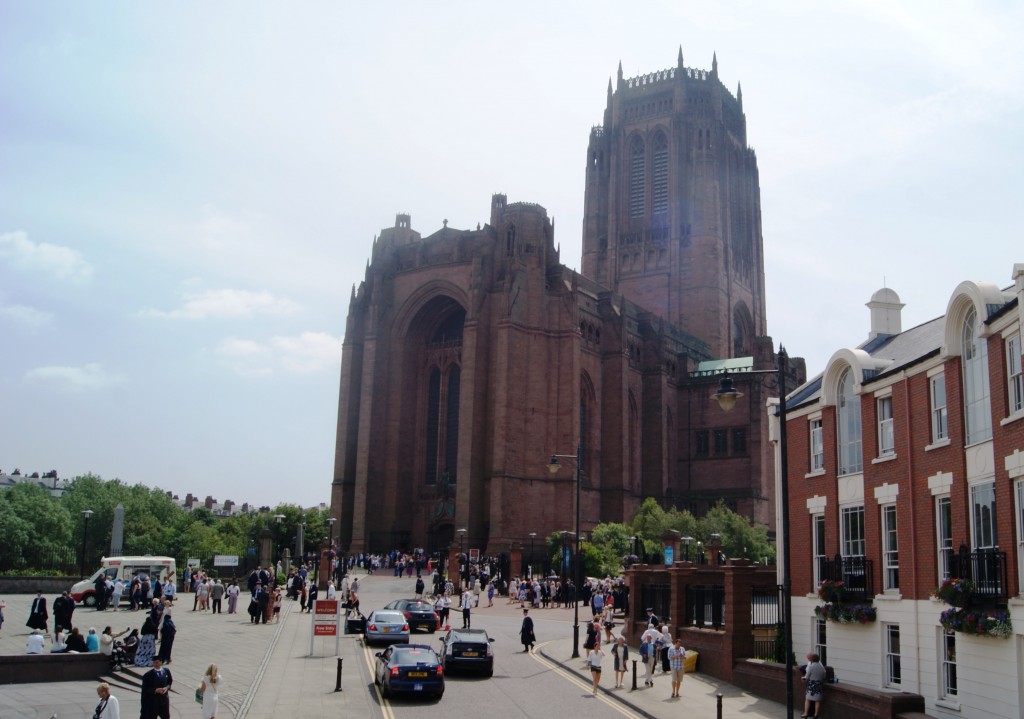 Complete with entourage, they then headed to the Dean Walters building for drinks and for prizes to be issued to some students in recognition of particular achievements.
Class of 2013 graduates
Bachelor of Arts (with honours): Journalism
Nicole Addy; Jamie Allen; Hannah Ashraf; Lucy Baines; Danielle Baldwin; Joe Barnes; Rachael Bentham; Sarah Bold; Ian Bolland; Jonathan Bridge; Emma Callum; Rose Cameron; Katie Croft; Sinead Cunningham; Jessica Etherington; Scott Fitzpatrick; Lauren Kelly; Rory Kelly; Emma Kemmery; Joshua Killner; Alice Kirkland; Rachael Laird; Tara Lamb; Joe Lanigan-Smith; Rachael Leitch; Eoghain Mc Kane; Ryan McCann; Sam McDonnell; Hayley Minn; Joshua Nevett; Rory O'Reilly; Urwi Patel; Philippa Probert; Joel Richards; Michaela Routledge; Scott Rumsey; Elisha Storrow.
Bachelor of Arts (with honours): International Journalism
Sara Ainsworth; Phoebe Au; Paul Collins; Madelaine Cornforth; Adam Davies; Daniel Farrell; Vanessa Gainford; Karina Galli; Mayuri Gore; Sophie Grundy; Eivind Haugstad Kleiven; Sophie Marsden; Calum Metcalfe; Marta Miles; Kate Molyneux; Lauren Murphy; Josh Parry; Natalie Romero; Michaela Shaw; Arild Skjaeveland; David Williamson; Sanna Zahid.
What they said: JMU Journalism graduation quotes >>
Prizes awarded to Class of 2013 achievers >>
Facebook: JMU Journalism Class of 2013 photo gallery >>
YouTube: JMU Journalism graduation day 2013 slideshow