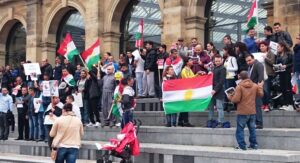 Scores of people took part in a demonstration in support of people trapped in the ISIS-besieged border town of Kobane during a protest outside Liverpool's Lime Street Station on Wednesday.
The group chanted: "Who is killing women? ISIS. Who is killing babies? ISIS!" while waving Kurdish flags and placards accusing Turkey of supporting the terrorists.
ISIS has now extended its self-declared Islamic Caliphate to within a few miles of the Turkish border, and is fighting Kurdish Peshmerga forces in the border town of Kobane, Syria.
Awat Khezri, a student at the University of Liverpool, helped organise the gathering.
He told JMU Journalism: "We are demonstrating to tell the whole world that there are people in danger, the people of Kobane. They are surrounded by ISIS from three sides and the other side is the Turkey border, which is closed.
"They are struggling to save their lives, they are under attack, and unfortunately the same situation happened to the people of Shangal [Iraq] two months ago. Thousands of people were buried alive, were killed with no reason, and our main purpose is to attract the attention of the whole world and make them aware of what's going on there.
"It's an absolute disaster and we need support to help save their lives.
"We just advertised it on Facebook and told who we already knew. [Maybe] it could be busier, but that is all we could do.  There are about 100 people [here]. We have attracted the attention of some people, and that was our purpose."
Asked if the demonstrators wanted to attract the attention of people such as Prime Minister David Cameron, Mr Awat replied: "This message is not for politicians, this message is for ordinary people from every single corner of the world, because we don't care about religion, we don't care about politics – we care about community."
A recent United Nations report claims at least 10,000 civilians have been killed in Iraq since ISIS began expanding its territory across the country and neighbouring Syria earlier this year. More than 190,000 people have been killed in Syria's civil war, according to an August UN report.
https://www.youtube.com/watch?v=-oP_pGNXpQI