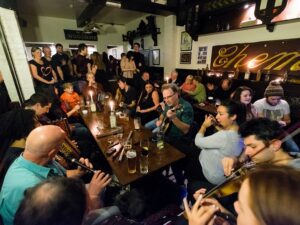 The Liverpool Irish Festival returns for its 15th year this week, with a variety of cultural events on offer.
The annual festival gives the opportunity for sampling art, music, food and celebrating the historic Irish heritage in Liverpool.
Festival Director, Emma Smith, told JMU Journalism: "This year there are about 60 events, happening across the festival.
"We had hoped we might get 10,000 visitors. However, with hurricanes, Ryanair layoffs, train and bus strikes, we're really not sure just how many we might get."
This year's programme has had a support from artists, musicians, historians and the creative organisations of Liverpool, the Arts Council Festival Society and Liverpool Culture Company.Venues such as the Philharmonic, the Everyman Theatre, and FACT are among the locations being used.
YouTube: Bob Edwards
Councillor Wendy Simon, member of Culture and Tourism at Liverpool City Council, described the event as having "a great legacy, the collaborative working of arts organisations ensures a joined-up offer for the city that is unparalleled across the country".
The official launch at the Everyman on Hope Street tonight is free, but prior booking is required. This marks the start of the ten days celebration that will be closed with a traditional Irish session at Kelly's pub on Smithdown Road. The night is free and welcome to all, with musical entertainment.
For any further information about scheduled events, you can visit Liverpool Irish Festival website here.