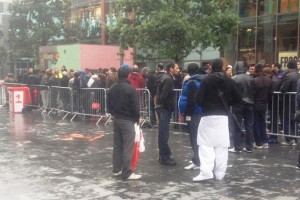 As the latest 'must-have' gadget from Apple was released on Friday, hundreds queued at their Liverpool One store to get their hands on the iPhone 5.
Many have waited months for the release of the new iPhone 5, and some people camped out overnight in front of the store to be among the first in line.
Among those who had been waiting from the early hours  of the morning was Mo Dasti, 28, from Kensington, who told JMU Journalism: ''We got up at four this morning to come down here with a coffee and queue. It's not the best weather, but I really wanted the iPhone before most.''
The latest version of the smartphone promises to be thinner, lighter and faster than the 4S, though Apple has faced complaints about errors in its maps service. While queuing for a new iPhone, Halewood's Gary Kurns told JMU Journalism: ''The iPhone 5 is a lot better than its previous generations, and it's just above everyone else it's competing against. It looks nice and is supposed to be faster, but I won't know how good it is until I get in the shop.''
Other people in Liverpool who queued to buy the new phone, which has prices starting at £529, said that they do not think it is much different from its predecessor but still feel the need to get it: ''I don't think the iPhone is going to be that much better but I still felt I had to come down and buy it or I would end up regretting not having it next week,'' said Simon Fawks, a student at Liverpool University.
Lilly Clark from Aigburth said: " I really don't think it's going to be different apart from the shape but it's all the hype and anticipation that makes people want to buy it, because they think it's the best you can get."
Apple is said to be aiming to sell around 50 million smartphones this year, which adds to the list of its other coveted gadgets such as the iPad and iPod.