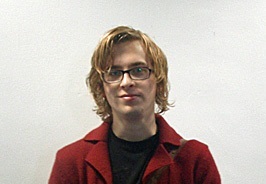 Name: Iver Kleiven
Age: 21
Nationality: Norwegian
Hometown: Lillehammer
Why did you decide to come to Liverpool?
Because it seemed like a nice city and it offered the course I wanted. Of course it helped that it was the Capital of Culture as well.
Does living in Liverpool meet the expectations you had before you moved to the UK?
Definitely. Englishmen are just about as polite and friendly as I expected… and the weather is horrible!
What is your favourite place in Liverpool?
Bold Street with all its cosy cafes and quirky shops.
What was the most exciting moment for you, since you came to Liverpool?
Probably my first few weeks in uni, getting to know my tutors, my classmates and my course.
What is the biggest difference between Liverpool and your hometown?
Size does come into it, I guess. I'm from a village with 25,000 people and greater Liverpool (as far as I know) has got more than 500,000. Still, I find the city centre very manageable.
What do you miss the most about your home country?
Brown cheese.
What do you miss most about Liverpool, when you are back at home?
Cheap alcohol and cheap junk food, and the fact that there's always something to do.
What was the strangest thing you came across during your time in the UK?
The phenomenon that is corkage. Back home it would be totally unacceptable to bring your own drinks to a cafe or restaurant.
What advice can you give other international students who come to Liverpool?
Bring a good coat, the rest I'm sure will handle itself!
Iver graduated in July 2011