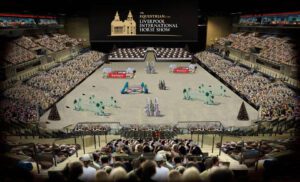 Equestrian fans will have the chance to watch high quality competition as the first Liverpool International Horse Show will come to the city next year.
The event will be held at the Echo Arena from January 1st to 3rd 2016.
The show will feature its own 'Grand National' of Shetland ponies and a display by six shire horses racing across the arena, while musical connections with the city will be highlighted with a performance by the Bootleg Beatles.
It will be the first International Horse Show in the city's history and will serve as a kick-off to the sporting and Olympic year of 2016, featuring competitors from the GB team for the Rio de Janeiro Games.
The event, organised by equestrian promoter Nina Barbour of Bolesworth International, told JMU Journalism: "We want to bring equestrian sport to the heart of the city.
"We see this as our Olympic legacy. I watched the equestrian events in the heart of London at the 2012 Olympics and I wanted to bring that kind of world class sport to the north west of England."
Pippa Miln, Marketing and Event Organiser for the Liverpool International Horse Show, told JMU Journalism: "There are just seven weeks to go and the excitement is mounting. It is so great to be part of an event that is going to be such an amazing family friendly show for the city and, as a Northerner, I am so pleased that we are going to have an event like this on our doorstep."