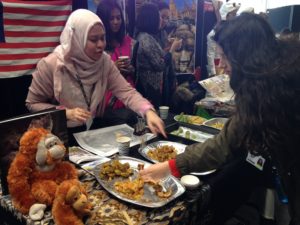 LJMU International Day returned for another successful year this week, bringing students and staff together in a bid to represent and celebrate different countries and cultures through food, music, dance and more.
Vice Presidents of the Student Union organised the free event at LJMU's James Parsons Building, giving people the chance to represent their country in a manner of their choosing.
Students performed in their own language and shared their national heritage, with all corners of the globe featured, with countries such as Ecuador, Oman, Turkey, Italy, China and Thailand among those featured..
Rachael Smart, Vice President of LJMU Student Union, said: "The running of this year's day was organised by the Student Union instead of the university, and it was organised for students to get £100 support fund for their stalls, allowing them to get in the proper decorations and things they need.
"At LJMU we have a high percentage of international students from around the world with different cultures, and this is a different environment where anyone can socialise in a relaxed way.
"Social media and tech support was used to reach out too many students, and the international society was a great form of contact as well. One of my manifesto pledges was to improve the way students are brought together at events, and this is a great example of that."
YouTube: Jasper Hunt