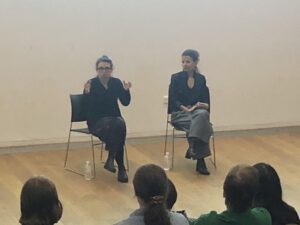 Students and fans of art were presented with an enlightening discussion between the newly appointed director and curator of the Liverpool Biennial Festival 2020.
As part of the Luminary Lecture Series, taking place in the Liverpool School of Art and Design, Wednesday's talk was intended for people in attendance to gain an understanding of ideas from lead experts in different creative fields.
The Liverpool Biennial is the largest contemporary visual art festival in the UK and takes places every two years across the city. The event also commissions international artists to make and present work in their own context of Liverpool and gives new artists fresh opportunities to see their displays in public.
Manuela Moscoso, curator of the festival, told the audience that she is "trying to put a group of practices and relationships that help take you as a person to different places".
YouTube: Stephen Rawlinson
She added: "It is important that we activate sites in Liverpool for art encounters that perhaps are not available regularly. We want people to feel art around them and the Biennial is key to doing that."
Ms Moscoso was joined by the Biennial's director for 2020, Fatoş Üstek, as they discussed with the audience the visions they had for next year's festival. This included an analogy of how they saw the docks as a stomach as everything has passed through the port throughout history.
Speaking to JMU Journalism, Ms Üstek said: "We plan to interpret this through other means too, including sound and how distinct song and noises help incorporate your senses as well as feelings about art.
"The Biennial is rooted in Liverpool and has many things to offer. It brings a variety of international artists together so that there are new conversations that happen. It also contributes vastly to the city, people come from all over the world to visit the exhibitions."
She added: "The festival in Liverpool is already 20-years-old and I am proud I am part of one of the top 15 Biennials in the world."
The festival takes place from July 11th 2020 until October 25th later that year. A full list of artists taking part will be released soon.
YouTube: Stephen Rawlinson