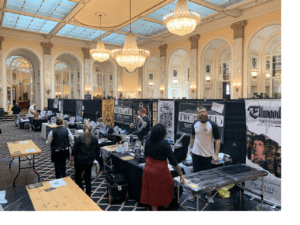 Ink lovers put their artwork on show as the Liverpool Tattoo Convention returned to the Britannia Adelphi Hotel for its 12th year this weekend.
The convention brings tattoo enthusiasts and artists to Liverpool for tattooing, catching up with friends and laughs.
The convention is not all about tattoos, with live bands playing in the evenings and the 'Boss Beard Championship Roadshow' taking place too.
The ink artists themselves say that, for them, the conventions they attend are all about seeing friends that they have not seen for a while.
It gives them the opportunity to showcase their work to people who would normally not see it, especially for those who travelled far to attend the convention.
Nick Valentine, who drove seven hours to attend from Felixstowe, told JMU Journalism: "It's nice seeing what tattoo styles are popular in other cities, and it's a good opportunity to get everyone together from around the country.
YouTube: Katie Preece
"It is nice to see all your friends who you don't get to see every day, it's like a real community. Whenever I go to a convention, I bump into people from other studios that I've met before, and that is the best part about it I think."
The tattooists get the chance to be with like-minded people and to explore their passion. Nick told JMU Journalism that he's "always wanted to tattoo, since I was 16, I just love the industry so much".
Marco Reboke, from Design for Life Tattoo Parlour in Liverpool, has been in the business for 14 years. He told JMU Journalism: "Conventions for me are to share knowledge, it's not a competition. I see it as an opportunity to show my work and that's it."
Along with having the artists at the Adelphi for the weekend, the tattoo convention also hosts the UK Tattoo Awards, with local stall holders also selling their Gothic trinkets, with discounted prices on food and drink also available.