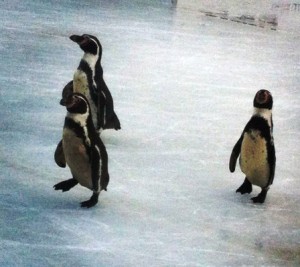 Liverpool One shopping centre has launched its first Ice Festival just in time for the festive season, with penguins popping by to help get the party started.
The festival, which is to be staged in Chavasse Park until January, is thought to be the UK's biggest ever group of real ice attractions together in one place.
Thousands of people turned up to watch the launch, which included professional ice sculptors, street entertainment and a lantern parade in the evening.
The launch featured some special guests, as live reindeer and 'celebrity' penguins that have appeared on television shows such as Jonathan Ross and Alan Titchmarsh.
The penguins impressed their audiences by taking to the ice rink to 'skate' around and educational talks about the birds also took place every half hour.
Visitors will have the opportunity to visit the outdoor alpine ice rink and Santa's grotto where elves will be ready to greet children with a special gift.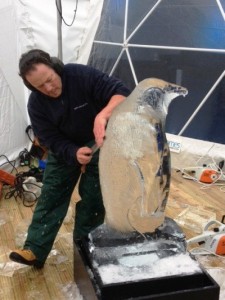 Over the next couple of months shoppers at  Liverpool One will be able to enjoy drinks in the UK's first ever pop-up real Ice Bar which features furniture made from crystal-clear sculpture, and the UK's largest ever ice slide.
A massive 25 tons of crystal clear carving ice will be used to create the ice bar. The Ice Gallery and has been brought to Liverpool by the team behind the world renowned London Ice Sculpting Festival.
Philip Hughes, Creative Head of the Ice Box, said: "Chavasse Park in Liverpool One is the perfect place for this to happen, not only does it look great, but it's a central hub for shoppers and visitors to the city to come and enjoy the festival. We can't wait to see the reaction of visitors to Liverpool."
Donna Howitt, Marketing Director at Liverpool One said: "Liverpool One is proud to be bringing something of this scale to the city for the festive period. Ice Festival will offer an arctic adventure where I'm sure all our visitors will form many happy memories."