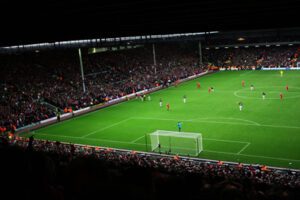 A call has been made to find a 'missing' Liverpool football stadium from more than a century ago.
The stadium itself, once thought to support more than 30,000 people, vanished towards the end of the Victorian Era and Wavertree Councillor Tim Beaumont is leading the charge to find it.
Home of the short-lived Liverpool Caledonians FC, it is thought the stadium – Woodcroft Park – housed a team that could have rivalled Liverpool and Everton at the time.
Cllr Beaumont told JMU Journalism: "In the 1890s, Liverpool stadiums weren't as grandiose as we conceive them, compared to today's.
"Bear in mind, this was a time where Everton players still got changed in a pub. There was a rapid change, structurally; you went from having fields around that area to housing estates just 20 years after."
Alongside the councillor, the Wavertree Society has researched the most likely location of the pitch, between Picton Road and Smithdown Road. But, as of yet, there's no certainty to exactly where it lay.
The Liverpool Caledonians competed from 1890 to 1893 alongside Liverpool, Everton and Bootle, a local quartet referred to as "The Big Four".
Consisting of mostly Scottish players, the team had clear intent of becoming a Liverpool football club, once making it to the fourth qualifying round of the FA Cup, one stage further than the Reds, before falling against Northwich Victoria.
Cllr Beaumont added: "They had the ambition of becoming a Premiership team. Had the Caledonians not been knocked out, who knows where they would be.
"Newton Heath had success around that time which lead to them becoming Manchester United – this was one of the first countries to see football for the global potential it held. Had they made it through, we could be talking about Woodcroft matching the likes of Anfield."
The councillor is appealing to anybody who has any knowledge of the Liverpool Caledonians to contact him to help solve the mystery. "It'd be a very interesting piece of Liverpool history for such a football-crazy city, as well as helping to fill in our town history's gaps," he said.
Do you think you have the last piece of the puzzle? Information can be sent to [email protected]