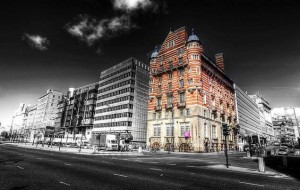 Hundreds of people visited Liverpool's Titanic-themed hotel as it opened its doors to the public on Saturday.
The former headquarters of Titanic cruise liner, White Star Line, has been under construction since last year and will continue to be improved before it welcomes guests in April.
The public queued beneath a replica of the White Star Line flag which was hoisted into placed by Liverpool Lord Mayor, Gary Millar earlier in the day. It was the public's first opportunity to see the famous grade II listed building since it was bought by Signature Living for £1.6 million.
The hotel, named '30 James Street – The Home of the Titanic' underwent a restoration costing around £5.5 million and now has the capacity for 300 guests across 65 apartments. Lawrence and Katie Kenwright of Signature Living bought the property with the aim of preserving the vessel's memory and restoring much of the building's original features, which were hidden when the building was converted to offices.
Each room now represents a different part of the cruise liner's history and the first class ticket lounge has been restored to its former glory.
Mr Kenwright said: "When designing this hotel I tried and hopefully succeeded in not creating a hotel that resembles a museum. My view was to create a hotel that has never been created before, a hotel with a history like no other; each room will be totally bespoke, with a definitive history specific to that room."
The hotel is situated directly opposite the Three Graces, the River Mersey and Albert Dock. Mr Kenwright added: "I don't think there is a better position in this city than where this building sits."
Built in 1896, the Portland stone building became a lifeline for families waiting for news of their loved ones after news of the Titanic disaster of 1912 began to spread.
Titanic Heritage Trust Founder, Harold Nelson, attended the public viewing on Saturday. He told JMU Journalism: "I think what Lawrence is proposing for 30 James St and with the progress he has made so far, I think it will benefit Liverpool's tourist industry greatly.
"We should hope also that somewhere in the refurbished building there will be provision for visitors to remember all those whose lives have been touched by Titanic and have since been lost to us."