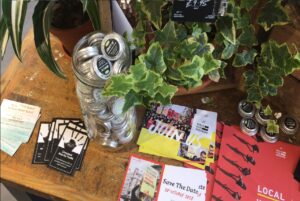 Campaigners 'Stop the Traffik' teamed up with the Lush store to open people's eyes to the potential dangers of human trafficking in Merseyside.
Over the weekend, workers from the charity appeared in the Liverpool cosmetics shop to encourage customers to set up a code word with someone they trusted, to reduce the risk of being a victim of modern slavery.
Human Trafficking is the illegal transportation of people for the purpose of exploitation.
The idea of using a code word is based on the experience of 'Sophie Hayes' – the alias of a woman who was sexually exploited by her boyfriend. She got help out of her dangerous situation by using the code words: "How is Auntie Linda?" When she phoned her mum and asked about Auntie Linda, her mother then knew she needed help.
Annette Maudsley, who works for Stop the Traffik, told JMU Journalism that this method is a "safe way of asking for help in an unsafe situation".
The charity worker also revealed that children in the UK are top of the list for potential trafficking. She said: "We are one of the most powerful countries in the world yet our kids are top of the list. We are failing in some way."
YouTube: Megan Tattersley
Most people Ms Maudsley spoke to admitted they knew little about modern slavery and Kira Jones was one such customer. customers. The 24-year-old told JMU Journalism: "I did not realise how dangerous grooming was in this country. I have a little nephew, and the thought of him being groomed is terrifying. I will definitely make him create a code word with me."
Debbie Samples, who was on a shopping trip with her daughter, said: "As a parent, I am thrilled that the dangers that surround our children are being talked about. Obviously it will take more than a shop visit to reduce the amount of victims, but it is a great way to start."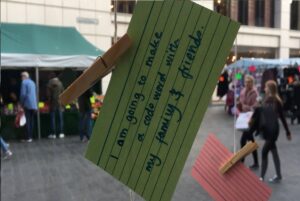 Outside the store window, messages were hung on strings with people's thoughts on how they want to fight trafficking. One read: 'Trust your gut", while another said: "Using code words".
The cosmetics company also offered people the opportunity to buy charity pot, which contained a body lotion with 100% of the money going towards local businesses to help raise awareness.
Each pot had a sticker with the charity's logo as a reminder of the importance to prepare for any potential situation of human trafficking.