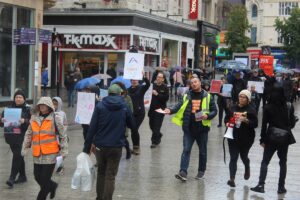 The importance of raising awareness on the plight of human trafficking victims was brought to the streets of Liverpool as more than 100 people took part in a demonstration.
'Stop the Traffik Liverpool' is part of a global network and was selected to host A21's sixth annual 'Walk for Freedom'.
Liverpool City Council aided proceedings by stopping the traffic on Strand Street, so that the walk could set off unhindered from the International Slavery Museum.
This year more than 500 walks were set to take place across more than 50 countries, the largest in the A21's history. The non-profit organisation operates out of 14 locations worldwide and has been aiming to "put an end to slavery, everywhere" for the last 10 years.
YouTube: Ash Rowe
Annette Maudsley, leading the event for 'Stop the Traffik Liverpool', told JMU Journalism: "We're walking to raise awareness of slavery and what's happening globally, but also to help the city know that we are fighting against it.
"Because it's such a violent crime, people are scared to report it."
The group organised its supporters into a silent single file line on each walk, with selected members holding up signs displaying facts and statistics about human trafficking.
Ms Maudsley said: "We wear as much black as possible. They [victims of human trafficking] are silent, but they can't do anything. We are doing it for them."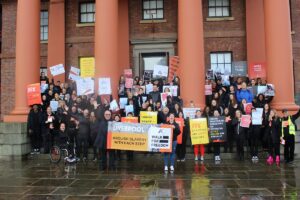 As well as raising awareness, the 41-year-old from Liverpool takes active measures all year round.
She said: "The group has been going for nearly 10 years now. We work with the museum, Merseyside Police, British Red Cross and Border Force.
"We also go into schools raising awareness of online safety, healthy relationships and things like that. We'll go anywhere to help people because we don't want anyone to end up being groomed and trafficked."
Despite the rain on Saturday, 112 people turned up and completed the near-4km walk through the busy city centre.
Next year's walk is now planned for October 17th.