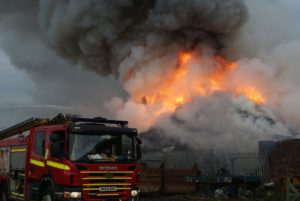 A large fire that raged at a Seaforth Docks recycling facility since Friday night and continued into this week has now been extinguished, after belching smoke into the skies for miles around.
Merseyside Fire and Rescue Service had been battling the massive blaze over the weekend, which officials had warned was likely to continue into the coming days as the struggle went on to douse the flames.
It was still burning and producing noxious smoke up from the metal and plastic recycling plant until 2.50pm on Tuesday when firefighters, who had been working around the clock, finally managed to put it out.
Emergency services were contacted at 11.20pm on Friday and they sent six fire engines along with two aerial units to the docklands site north of Liverpool city centre.
YouTube: Smichaelsutton
Firefighters were able to separate the inferno into sections early on Saturday morning. Large diggers and cranes were deployed throughout Saturday night and continued into the afternoon on Sunday in an to attempt to break up the smouldering scrap pile.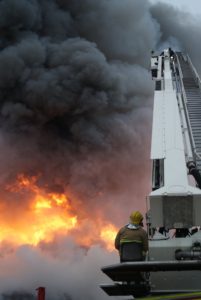 They hoped this would speed up the rate the fire could be stopped by getting as much water to the source of the blaze as possible.
The technique was used to make the fire more accessible to emergency crews, although they warned that it would lead to a larger fire and more ash and smoke for a short period.
Large plumes of smoke were visible across Merseyside, the Wirral and as far as North Wales. Social media users complained about issues with the smell of smoke and lack of visibility caused by the accident.
Merseyside Fire and Rescue Service told residents with pre-existing health conditions to keep medicine close.
A spokesman said: "Care was taken to minimise environmental damage and MFRS worked closely and effectively with partner agencies to ensure that information around potential air quality and health concerns was made available."
The exact cause of the fire has yet to be identified.
A snapshot of our firefighting efforts at the Seaforth Docks fire, which began on Friday evening and is still continuing. pic.twitter.com/CiyfJsok1m

— Mersey Fire (@MerseyFire) October 24, 2016