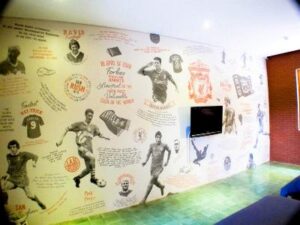 Liverpool FC has a huge following around the world, but supporters in Indonesia have been so inspired by the club they have decided to name a new hotel after Reds captain, Steven Gerrard.
The 'Stevie G' hotel was built in 2010 by The Maja House Group and opened in late 2011 in Bandung, Indonesia, and has been named after the 31-year-old Liverpool player.
Steven Gerrard is thought to be the first player to have a hotel named after him, and the general manager of 'Stevie G', Aditya M told JMU Journalism that the hotel's management are such big fans of Liverpool Football Club that they decided to name it 'Stevie G'.
He added: "The Stevie G is a unique and one of the room's decors, the 'This is Anfield' room, was indulging Liverpudlians. In the room there is Anfield stadium wallpaper and a collection of Liverpool players past to present, such as Kenny Dalglish, Michael Owen, Steven Gerrard and even Luis Suarez can be found on the bedroom walls."
'Stevie G' is the first boutique hotel in the city and each room is English-themed in homage to LFC.