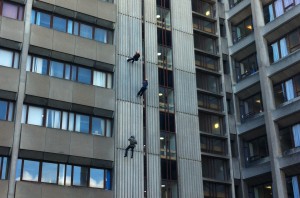 Daredevil abseilers took the plunge at the Royal Liverpool Hospital to raise money for the institution's critical care units.
'The Big Drop' took place over the weekend, featuring a 200ft sponsored abseil down the side of the hospital itself.
The event was the last of its kind to be held at the hospital as the soldiers from the Royal Artillery could no longer help run the annual charity drop, and the hospital is also due to be demolished to make room for a brand new counterpart in its place.
Angela McShane, the events and community fundraiser for the Royal Hospital, said that the idea for the abseil came from a former colleague.
She told JMU Journalism: "A man who used to be our fundraiser that came up with the idea, as he knew some men from the army who could help us stage the event. I did the abseil about three or four years ago and I was terrified but I did it to conquer my fear of heights."
Connor Clark, fresh from doing the abseil, said that it was a great experience that he would not forget in a hurry. The 25-year-old told JMU Journalism: "In the gym I go to there were posters about the abseil everywhere, telling you how to get involved and so on, and that is how I first heard about it. I really wanted to do the abseil and it is good to raise money for charity in the process.
"I knew for a fact that if I would have looked down at the ground whilst going down I would just freeze so I just got on with it. The last abseil I did was ages ago and it was only 30ft so it was a massive difference."
The last ever event was a big success with around 140 people turning up over the weekend, raising nearly £15,000 in the process, and the funds will be used for various wings at the hospital.