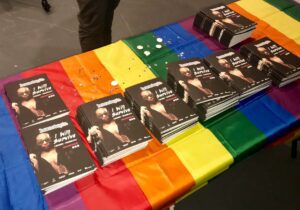 The annual Homotopia festival began last night with a free launch party to kick off the month-long celebrations.
The festival takes place every November in Liverpool and promotes local, national and international LGBT+ arts and culture.
The official opener at Hinterlands in the Baltic Triangle was curated by Washington DC-born Cheryl Martin. The award-winning writer and director warmed the crowd up with a nod to this year's theme, 'I Will Survive'.
Speaking to the crowd, she said: "When they asked me to do this, at first I was afraid, I was petrified, but then I realised what a blast it would be to be in Liverpool and to help keep this great show going."
Other entertainment came from local favourite, Ashleigh Owen, DJ Louisa Roach of She Drew the Gun, and dance company, House of Suarez. The free event continued into early hours of Saturday morning.
Twitter: Orlaith Clinton
The crowd enjoying tonight's entertainment. Performers from @HouseOfSuarez have taken to the stage now. #Homotopia @JMUJournalism pic.twitter.com/BGzypFMHz8

— Orlaith Clinton (@ClintonOrlaith) November 2, 2018
House of Suarez performer, Ryan Harrison, has danced for Homotopia for four years. He told JMU Journalism: "I think Homotopia is really important for Liverpool because it creates an environment where anyone can come and be free to be themselves.
"You are accepted whoever you are. You don't often get opportunities where a space like that is created."
With a newly-expanded team of workers and the ongoing support from Liverpool City Council, Merseyside Police and the Arts Council England, the celebration is now into its 15th year.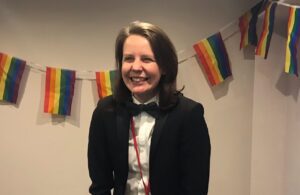 Festival Manager, Char Binns told JMU Journalism: "Homotopia is about art and culture. It is about putting LGBT+ culture into the mainstream, but also having it for ourselves and saying 'this is our festival'.
"As a queer person, I go to the theatre a lot and I watch a lot of movies. I don't see someone who I can relate to on that screen. During Homotopia every single night I see someone who I relate to.
"That is special, not only for the community in Liverpool but for people who come from all over the UK to Liverpool for this festival."
Speaking about the growth and success of Homotopia, she added: "We have changed in the last few years. We are more diverse, inclusive and younger.
"Homotopia is more exciting, but every year is fabulous. We don't do anything by halves and we are always celebrating something."
The Homotopia festival is running until 1st December 2018 with a range of shows, speeches and exhibitions taking place across the city.
Twitter: Orlaith Clinton
Performer Ryan Harrison from @HouseOfSuarez tells @JMUJournalism why he thinks @HomotopiaFest is such an important festival in Liverpool. "Anyone can come and be free to be themselves and you are accepted whoever you are," he said. #Homotopia pic.twitter.com/107TbX1yTM

— Orlaith Clinton (@ClintonOrlaith) November 2, 2018