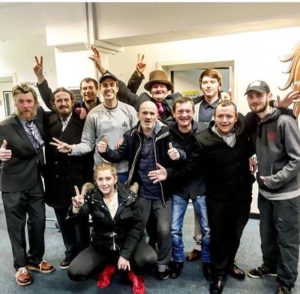 Rough sleepers have come together with volunteers in an innovative project to help tidy up the streets that they call home.
The Gym Hippy group has teamed up with Signature Living to help 15 homeless people who are staying at a temporary shelter in Kingsway House in Hatton Garden.
After organising a peaceful protest on World Homeless Day, Gym Hippy then began holding activities for the homeless, including social events as well as handing out vital supplies to those on the streets.
The growing movement joined the Our House project created by Liverpool developer, Lawrence Kenwright, in December and this is said to have provided shelter, food and support to more than 80 rough sleepers in its time.
Organiser David O'Keefe told JMU Journalism: "Gym Hippy is a movement and cleaning the streets comes from the hippie mindset of love and respect for the planet we all share.
"The Gym Hippy team was originally myself, my girlfriend Paige Finnan, a few mates and the rest were homeless people. We joined up with Signature Living before Christmas and made plans to clean the streets with the volunteers."
The idea to tidy up town came from one of the homeless guests of the shelter who approached Signature Living boss, Mr Wright, to say that he and some others wanted to get together and keep the area litter-free.
Mr Wright told JMU Journalism: "Our homeless guests genuinely want to go out into the community and put something back by helping to clean up the streets in the city.
"If you give a homeless person shelter, a roof over their head and an opportunity to work and get clean from substance abuse, then we are halfway there. This not only restores that person's dignity and pride, but also gives them a sense of purpose and a reason to reintegrate back into society."
YouTube: Mark Barnett