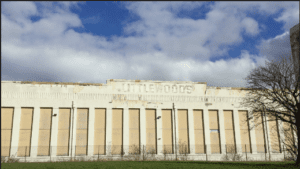 Ambitious plans to bring a mega-money film studio to Liverpool seem set for success, with the city council's cabinet set to sign off on the Edge Lane development.
The purchase of the former Littlewoods building is due to be completed next week, with Capital and Centric, a Manchester-based development firm, delivering the project on the site off Edge Lane.
They redesigned the Tempest building in the town centre, and are aiming to turn the barren landmark into a vibrant hub.
The huge art deco structure hasn't been in use since 2003, and the recent moves come almost a year after the initial £35m plans for a Pinewood Studios-style operation were finalised.
Previous projects earmarked for the land have included an attempt to build flats and, in 2013, Capital and Centric had proposals approved to build a hotel and shops, but that did not come to fruition.
YouTube: Oliver Fell
John Moffat, director of Capital and Centric, told JMU Journalism: "We've spent a lot of time working with tenants, working through their briefs. The key thing has been strategically identifying what we need, we know what the tenants are after.
"Also, we've been working with the combined authorities to secure a grant. There's no question that the city has all of the assets to produce a world class film studio."
The aim is for the studios to be fully operational by the end of 2019, allowing building and installing the correct technology to take place.
Mayor of Liverpool Joe Anderson said: "Liverpool's digital and film industry has reached a tipping point where a major film studio would complete our world class offer and supercharge our plans to create one of Europe's leading creative centres."