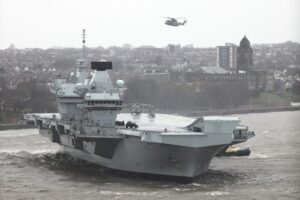 Crowds gathered at the waterfront to greet he new £3.1 billion warship, the HMS Prince of Wales, as it arrived in Liverpool for a week-long stay.
The 65,000-ton ship welcomed guests on Saturday and Sunday, the first time members of the public have been allowed on a Queen Elizabeth-class ship.
The inaugural visit of the giant aircraft carrier marks a historic moment for the city, with the new ship's affiliation with the cities of Liverpool and Bristol.
Deputy Mayor and cabinet member for culture, tourism and events, Wendy Simon, told JMU Journalism: "It's a huge coup for Liverpool to welcome its affiliated ship, HMS Prince of Wales, on its inaugural, history-making visit.
"The sheer scale of the ship will be a real spectacle on the River Mersey and is set to attract local, national and international attention drawing massive crowds.
"Maritime events are always hugely popular in Liverpool and this will be no exception with our world heritage waterfront providing an incredible backdrop for a striking vessel."
YouTube: Save the Royal Navy
The vessel has some impressive statistics as the flight deck is 70 metres wide and 280 metres long – enough space for three football pitches – and has a company of 700 sailors, which will increase to around 1,600 with aircraft on board.
The vessel was guided by three tugboats and HMS Charger down the River Mersey on Friday afternoon, with visitors lining the areas around the Liverpool cruise terminal to see it.
Captain Darren Houston, the commanding officer of HMS Prince of Wales, said: "The visit of HMS Prince of Wales to the great maritime city of Liverpool is an important step in forging enduring relationships with the city and her people.
"I am deeply humbled by the incredibly warm welcome we have received. The tremendous support displayed by Liverpool demonstrates the remarkable depth of feeling that people have for the ship and the navy."
The ship is expected to stay in Liverpool until Friday.