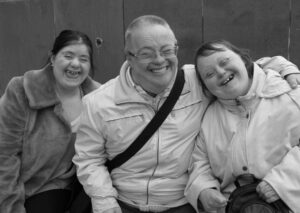 A theatre company for people with learning difficulties is to be the first of its kind in the country to produce an interactive archive retelling the lives of those it supports.
With the help of a £94,300 grant from the Heritage Lottery Fund, Wicked Fish, along with the charity Moving on with Life and Learning (MOWLL), is to record and archive the memories and feelings of the first day of school for 13 local people who all have Down's Syndrome.
The project aims to break down some of the cultural and social barriers that currently face people with learning difficulties.
Di Christian, Creative Director at Wicked Fish, said:  "Family history is so popular now, but we realised there was very little information about people with learning difficulties and very few, if any, recordings of people with learning difficulties telling their own stories.
"We want to create an oral and visual community archive that is not just for dusty prosperity but is an accessible social treasure too.
"Our project has the potential to enhance the status of people with learning difficulties in our community, and start something really powerful and unique that as far as we know hasn't been attempted before."
The two year project, 'People Like Us', will record, explore and share the family, social, and cultural history of people with learning difficulties in Liverpool from 1912-2012. It will give the participants the chance to tell their stories through the use of blogs, videos and performance pieces.
The project with culminate with an exhibition at the Museum of Liverpool, with written and visual information being handed to the Liverpool Records Office and oral recordings to the North West Sound Archive.
Sue O'Brien, Development Director for Wicked Fish, told JMU Journalism: "Without the grant from the Heritage Lottery Fund we wouldn't be able do the project on such a large scale and involve the partners we have.
"We are actually making history with this project as there are very little or no records by the People who have Learning Difficulties in Liverpool."
https://www.youtube.com/watch?v=voIYTiFqIwg&feature=related