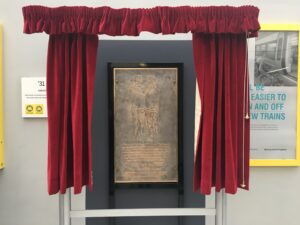 A tribute plaque has been unveiled to honour and recognise the survivors of the Hillsborough disaster.
Dozens of people gathered at Liverpool's Central Station on Sunday to see the tribute revealed after it was donated by the family of late campaigner, Anne Williams, whose 15-year-old son, Kevin, died in the 1989 tragedy.
Mrs Williams became a symbol of defiance after campaigning constantly to uncover the truth about the deaths of the 96 victims until she herself passed away in 2013. Her brother, Danny Gordon, and daughter, Sara Williams, then carried on her work by commissioning the work.
Steve Hart, a Hillsborough survivor, told JMU Journalism: "I think you can tell by the amount of people that turned up today just how important this plaque is to the people who came back that day.
"This is a focal point for them all now, and I hope so because so many of them to this day have never had the help that they should've had. If this can give them some sort of peace and closure then I think it's fantastic.
"A lot of them still have their demons to face, and if this in any way at all helps them then I think it's fantastic."
Merseyrail agreed to place the memorial in the station so everyone passing through will be able to stop and see the plaque.
YouTube: Amy Harding
Steve Rotheram, Liverpool City Region's Metro Mayor, told JMU Journalism: "I think it's an appropriate place as there's as much as 16 million people here every year, and I think some of those people will take an opportunity to come here and have a look and just pause for a second and think about what happened all those years ago."
Mayor Rotheram, who was at Hillsborough, said: "It'll mean different things for different people because some who have attended today's unveiling, like myself, were there on the day and we will have our own memories of the tragic events in April 1989.
"For others, it'll be about the true-spirited people of Liverpool and how that solidarity carried us through for nearly three decades until we got truth and justice."