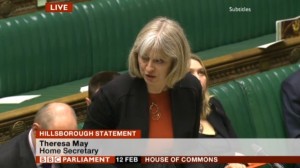 Home Secretary Theresa May was unable to confirm or deny whether the families of those who lost their lives in the Hillsborough disaster were the subject of police surveillance, when questioned in the House of Commons today.
MP May, who was updating Parliament on the investigation into the disaster, stated that she was asked by MP for Walton Steve Rotheram to "confirm unequivocally" that families had not been spied on by police and security services in the aftermath of the incident.
The request was followed by Shadow Home Secretary Yvette Cooper, who called on Ms May to "look further" into whether this could be confirmed.
However, the Home Secretary stated that it was not policy to reveal such information, instead stating that she had noted concerns and would investigate the matter further.
She added that Lord Justice Goldring had "made it clear" that fresh inquests into the disaster would begin on March 31st this year.
Ms May also confirmed that the Independent Police Complaint's Commission (IPCC) had recovered around 2,500 notebooks, that had not previously been made available by South Yorkshire Police, to which several MPs voiced their shock.
She said: "It's extremely unfortunate that South Yorkshire police didn't provide the police notebooks but I am encouraged by co-operation now."
The Home Secretary, who reiterated that it was her duty to "ensure justice can be done", offered praise to the families and the MPs who had campaigned on their behalf.
She said: "Mr Speaker, I would like to pay tribute to the bereaved families, the survivors and all those who have campaigned on their behalf.
"As Home Secretary, I have met a number of the bereaved families and I have always been impressed by the dignified way in which they and their supporters have continued their search for truth and justice."