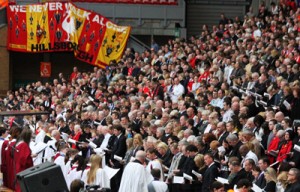 Liverpool FC have announced ticket details for the Hillsborough Memorial Service to be held at Anfield.
The service, to be held on April 15th, will mark the 25th anniversary of the tragedy and thousands are expected to attend.
Margaret Aspinall, Chair of the Hillsborough Family Support Group, said that she expects tickets for this year's service to go quickly, with four per persona being the limit for the allocation.
She said "We expect the service to be busy, so we urge you to obtain your ticket as early as possible and only request the amount of tickets you need. We have also put a closing date of Monday, March 31st, so we can plan accordingly."
Mrs Aspinall, who lost her 18-year-old son James in the disaster, told the Liverpool Echo that she feels this year's service will be special, with the new inquest into the disaster beginning two weeks before on March 31st.
The service will be attended by Liverpool Football Club Manager Brendan Rodgers and Everton Footnall Club Manager Roberto Martinez. Both men will deliver readings at the event.
Labour MP Andy Burnham will also speak at the event. Mr Burnham spoke at the pivotal 20th anniversary event which was attended by more than 30,000 people and led to a new drive to discover the truth of what happened at Hillsborough.
The event, organised by the Hillsborough Family Support Group, will take place at Anfield at 2:45pm on April 15th. Tickets for the event will be free and can be acquired from the club's ticket office, by telephone on 0151 907 9399 and by postal application to Liverpool Football Club Ticket Office, PO Box 204, Liverpool, L69 3JF.