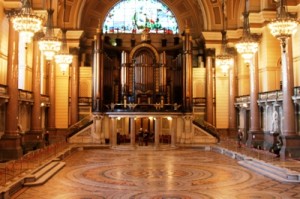 Visitors to St George's Hall have been handed a rare chance to see the stunning Minton tile floor until 22nd January.
The floor, which is made up of 30,000 Minton tiles and was painstakingly handcrafted in 1852, is rarely available for viewing and usually lies under a protective wooden floor to allow the Great Hall to be used for  events.
The mosaic contains images of tritons, sea nymphs and boys on dolphins, as well as containing the city's coat of arms.
St George's Hall, which is located on the site of the old Liverpool Infirmary, is a Grade I listed building and is included in the William Brown Street conservation area. The foundation stone was laid in 1838 to commemorate the coronation of Queen Victoria.
It contains many different rooms and was the first building in Britain to attempt air conditioning. Charles Dickens regularly used to hold meetings in the lavishly decorated Small Concert Room.
The building also houses a court which was still in use in the 1960s and is also open to the public. In 2007, HRH Prince of Wales re-opened the Hall following restorative work which cost £23million.
St George's Plateau, the flat space between the Hall and Lime Street Station, is synonymous with public rallies and events in Liverpool. Vast crowds have gathered there following the deaths of former Beatles John Lennon and George Harrison, and the homecoming of the city's football teams after winning trophies.
It was also the scene of the 'Bloody Sunday' attacks in 1911, when police baton-charged thousands of people who had gathered to hear syndicalist Tom Mann speak during the Liverpool General Transport Strike.
In 2008, Beatles drummer Ringo Starr gave a special performance from the roof to mark the tenure of Liverpool as European Capital of Culture.