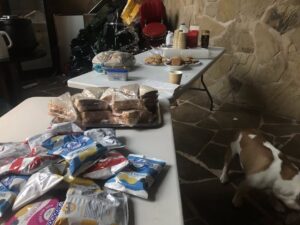 A bar and recording studio is offering help for the homeless and those without an address in registering to vote ahead of this year's General Election on December 12.
Studio 2, located on Parr Street is opening its doors today [Monday] until 5pm and tomorrow from 10am till 3pm to register voters as well as offering free food and hot drinks to anyone without a home and a registered vote.
The building, formerly known as Amazon studios, came to the city centre in 1991 where award-winning artists such as Coldplay, Elbow and Stereophonics have recorded.
Clubmoor Councillor Sarah Morton was on hand during the opening of the first of two days before the election deadline.
She expressed the importance of this initiative, telling JMU Journalism: "It's been a bit of a whirlwind trying to get it set up. The amazing people here at Studio 2 agreed to allow people to use their business address as an address for the polling cards to be sent to and to register from.
Twitter: Sol Murphy
https://twitter.com/Solmurphy_Journ/status/1198975733294608384
"It's something that is hugely important for this election, potentially life-changing for a lot of people and the people sleeping in doorways are the people that deserve a voice in this election more than anyone else.
"People will always be here during the next two days, even if it's just for advice or if they just want a chat or a bowl of soup. Nobody is forced to do anything we just want to give them that option which they don't have at the moment."
The electoral commission allows citizens to register to vote at a place "where you spend a substantial part of your time during the day or night".
This can be done by filling out a declaration of local connection form found at electoral registration offices or by downloading it online.
The deadline to register is Tuesday November 26th at 11:59pm. You can register to vote here.