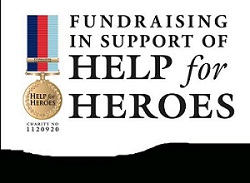 A Liverpool musician is raising money for injured soldiers with his Christmas single.
Gary Edward Jones is teaming up with fellow musicians from the Merseyside area to release a song, 'Friends of Mine', for the Help for Heroes charity.
Help for Heroes provide direct support to wounded, injured and sick soldiers and their families through grants to individuals, capital build projects and support for life at their recovery centres which are located across the UK.
Gary chose to support the cause after speaking to some soldiers collecting for Help for Heroes at a Liverpool shopping centre. He was moved by their stories of injured comrades and hopes to raise as much as possible through the single's proceeds.
He said: "There simply isn't enough care for injured soldiers. Through the music and lyrics, I'm engaging people with the issues and emotions involved and the funds raised from every sale of the single will make a very real difference to those affected."
Also working on the record is Chester-based musician and composer Luke Moore.
He told JMU Journalism: "The reception has been amazing so far.  In just five days, the video has reached almost 1,400 views and the number of messages of support has really shown how much the subject matter of the song means to a lot of people out there. It's always a tricky time of year to release something but the positivity we've had from people has just reinforced why it was important to get this charity single out there as soon as we could."
The official launch performance is at the Dovedale Towers, off Penny Lane, on Sunday 16th December. The track is already available to download and CDs will be sold at Gary's upcoming gig at Studio Two on Parr St on Friday 21st December.