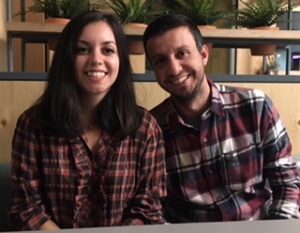 Liverpool is one of three cities to be chosen to experience homemade food being delivered straight to doorsteps.
People in the area can download a new app, HomeCooked UK, to pick from a selection of healthy meals created by local chiefs.
The service provides food made from fresh ingredients as a healthy alternative to a standard takeaway and the target audience is individuals who work long hours with no energy to cook.
Two of the three co-founders, Maria Gaitanidou and Anestis Gaitandis, have been working on the app for two years. Anestis told JMU Journalism: "Nothing can beat fresh home-cooked food," as Maria added: "It allows you to try authentic foods from different countries, for example the Mediterranean diet, which is very nutritious."
However, they have made it clear that people also have to "want to live a healthy lifestyle and be active".
Health and sports coach, Katrina Burt, who teaches people about the importance of a healthy lifestyle, told JMU Journalism: "A lot of companies advertise as being healthy, but when you break it down it is not. The key factor of having a healthy diet is eating fresh foods that have not be processed.
"For this reason I can see the app, in conjunction with exercise, improving diets of people in Liverpool if it is a long term change."
YouTube: HomeCooked UK
The meals are provided by professional chefs as well as passionate home cooks who live within a 2.5-mile radius of your home.
The founders have already had plenty of interest are they currently meeting between three to four cooks every day. Once you have picked a meal, the food will be delivered by a rider to your door.
Special dietary requirements are catered for with vegetarian, vegan and gluten free menus.
Meals will be accessible to customers in Liverpool from 5pm on Wednesday through the HomeCooked UK app which can be downloaded from the App Store or Google Play. Local cooks wanting to share their dishes can also apply via the app or online.
The service launched for the first time in London last month, with plans to expand to Manchester in 2019. There are also plans to move across Merseyside.