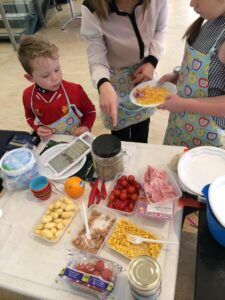 A new campaign has been launched in Knowsley to encourage people to cook on a low budget and take interest in their food.
The 'Pass the Book' campaign, launched by First Ark Group in partnership with Knowsley Council, is aiming to improve food education across the region with a series of workshops and the launch of a recipe book, ultimately improving the health of future generations.
Laura McCumiskey, a member of the One Ark – part of First Ark – team, has been working closely with this campaign and she believes food education can make a difference.
She said: "Many people don't have the knowledge or skills to cook nutritionally on a low budget. Those who don't find themselves in food crisis and accessing the foodbank are feeding themselves and their families on food with low nutritional content.
"This has a detrimental effect on children; low attainment, low IQ and attention-deficit disorders."
The first series of food workshops kicked off during February half-term at various locations throughout Knowsley, where families and children were invited to go and learn about food preparation, content and taste.
The First Ark Group have also launched a local foodbank, which has fed around 9,000 people and helps to encourage families to choose healthy foods.
During Easter, the 'Pass the Book' recipes will be launched at a new series of food .
Recipients of the book will pledge to learn from it and pass it on to a friend or relative who doesn't cook. The First Ark team and Knowsley Council will track the progress of families and evaluate the impact their new food-related skills have had on their family lives and diet.