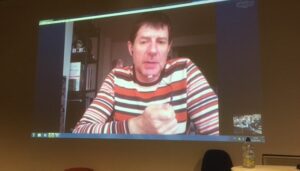 Students were left inspired this week after a guest lecture from the Tim Hetherington Trust which detailed the life and death of the award-winning photojournalist.
Executive Director Stephen Mayes led the talk via Skype from New York, whilst Tim's mother Judith was also in attendance to provide students with stories and advice.
Working amongst the conflict of the Libyan Civil War, Tim was killed by a mortar strike in 2011. Since then, the Trust has worked to preserve the legacy of his professional life as a visual storyteller and human rights advocate.
This includes archiving all physical materials and managing the intellectual and artistic use of his work.
Talking of his friend's passion for telling stories, Mr Mayes said: "One of the key, defining elements of Tim's work was curiosity. There's a lot of discussion today about the role of journalists and advocates and people taking positions, and Tim certainly had a position, but his starting point was curiosity.
"Having myself worked in the media for 20-30 years, it's a surprisingly rare attribute."
Mr Mayes discussed many of Tim's best-known projects, including his range of work in Afghanistan and his exploration of how sport heals lives in the war-torn countries of West Africa.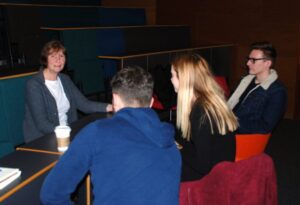 Mrs Hetherington, when answering student questions following the conclusion of Mr Mayes's talk, said: "I think Tim enjoyed the connecting. He was a great communicator, and when he was doing that he was happy."
Mr Mayes left students with valuable advice regarding Tim's work, saying: "One of the things we try to say to people is, use your curiosity, use your skills, and explore.
"It's not about repeating what Tim did; each of us will do it differently.
"The key is to look to him for inspiration, but not to copy."