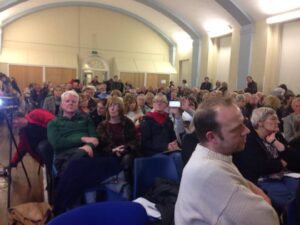 Angry locals gathered at All Hallows Church Hall to discuss their continued protest against Liverpool City's Council's planned sale of green space land.
Those proposals included Redrow's planning application to build houses on parts of the Calderstones Park Harthill Estate, with Tuesday evening's meeting focusing on those proposals.
Green space campaigners have previously lost fights over Sefton Park Meadows and Walton Hall Park, but the attempt to preserve green spaces in parts of Liverpool continues.
The council's Liberal Democrats leader, Councillor Richard Kemp, opposes Labour's plans. He was on the panel at the gathering and he believes that, apart from renovations to Beechley House, the rest of the land should stay in its current ownership.
He said: "I have said and my colleagues have said we do not believe that any green space in Liverpool should be sold. That is our policy."
YouTube: JMU Journalism
The strategic planning application by Redrow is to construct a housing estate, mews housing and convert Beechley House into apartments. Areas affected include Grade II listed Beechley Stables, the miniature railway and an extensive stretch of green space.
Councillor Frank Hont, cabinet member for housing, said: "This land has all been in private use for many years. Through the partnership, the council has been working closely with the site's existing occupants to bring forward a scheme that will greatly improve their facilities, whilst at the same time freeing up almost 13 acres of land to create 51 high quality new homes that are sympathetic to the adjoining parkland surrounds."
If the plans are agreed, Beechleyy Riding Stables – part of the Riding for Disabled Association – will expect to receive help to relocate and develop new, improved facilities at Clarke Gardens, in Allerton,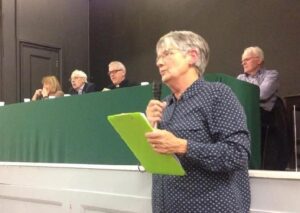 According to the association, the implications of this build include extra traffic, a negative effect on the surrounding environment, harm to wildlife and a loss of green space – cutting down more than 70 trees.
In addition to this, developers will have to pay costs of up to £100,000 to move the miniature railway station into the park.
Councillor Kemp added: "According to our planning department there's room to build houses for 75,000 people. That would be a 15-20% increase on our present population and frankly my colleagues and I again will be discussing this at the council meeting tomorrow.
"If we stopped building too many student houses all over Liverpool we'd have some more room for other people."
The land in question has not yet been sold to the preferred developer. A final decision will be taken at a local level with no third party right of appeal.