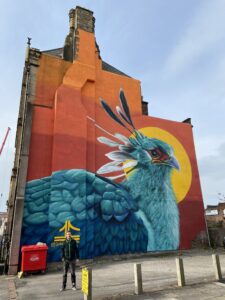 The famous Liver Bird has been given a 'modern twist' with an eye-catching piece of graffiti.
A gigantic take on the famous Liverpool emblem adorns The Wedding House on the edge of the Baltic Triangle that now sits proudly with both sides decorated with stunning artwork.
"I have always wanted to paint a Liver Bird," said John Culshaw, who was tasked with painting one side of the building.
"Every time someone paints a Liver Bird it is always in the same pose as the statue so I wanted to do something different."
It took over a week to paint the bird with the personal highlight being the completion of the face. Said Culshaw: "When the face finally came together, I was happy then. The rest of the job, it was fun."
The other side of the landmark building features a man holding his face and was created by artist Liam Bononi.
Taking 15 days to complete, this is Bononi's biggest piece of artwork yet: "It was my first large-scale mural," he said.
"I have never painted this size before. For me, all the process was special since the creation of the concept and the design.
"My concept is a narrative of the human search to reveal the inner self, to find the essence of ourselves."
Both pieces of art have attracted lots of attention from passers-by and have also been acclaimed by graffiti journalist Sam Clack.
He said: "I think Liam's mural is just fantastic, it has got that look about it. It is almost like an oil painting but in giant size on a building, it is really quite special.
"John is someone who I have been following for a good few years now and I think is it his best work to date. I think he is incredibly talented.
"The two pieces provide a real contrast. One is this classic oil painting style in quite muted tones and the other side is this big bold really colourful bird."