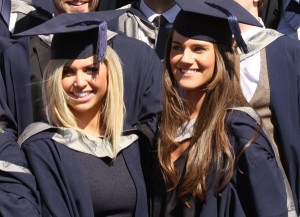 Sophie Fairclough
It has been lovely, really nice and the weather has been good. It's nice to see everyone from the course again. I didn't think much of it before the day but now I'm here I actually understand the true sentiment of it, how much it means and how our hard work has paid off. It has been really nice. The course was brilliant. At times it was hard and I didn't think I was going to get my degree but it has all paid off in the end. I'm so glad that I pushed myself and tried when I was there, making the most of every opportunity.
Trondur Arge
I've never seen this before, we don't do it this way back home in the Faroe Islands so it's quite exciting. The cathedral was massive and I had never been in there before. In every sense, it was special. I didn't know what to expect, but it was something different. This was the best decision of my life, to say goodbye to the Faroe Islands and try something big. It was only a couple of months before I came here that I figured out what I wanted to do and after three years I can still say I definitely made the right decision. Right now I'm working as a sports journalist and I definitely have interest in staying in journalism in some way.
Daisy Williams
It was really good, especially with Leveson being there – it fitted well with our course – and I liked his speech. I'm glad it's over now but it was really good. I've made a lot of new friends.
Katie Upton
It was wonderful. I'm starting on my local paper on Monday!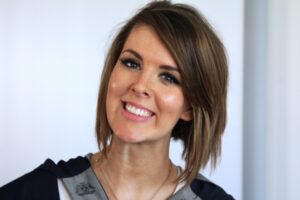 Niamh Spence
It was good, I really enjoyed it, but the whole time I was thinking about the ramp at the end of the stage, and falling. Once that was done, it was over before I knew it. It seemed a bit short after three years! It's really nice to show your parents what you have done. I loved the course, I've found my niche and what I want to do. It's the perfect city for it. I'm freelancing at the moment and then planning to go into PR.
Dan Richardson
Brilliant, I've really enjoyed it and it's great to be finished. It's nice to see everyone graduating together. I broke my leg a few weeks before my final deadline and they gave me an extension, otherwise I wouldn't have been able to graduate today so it's really good to graduate today. I've learnt so much and made so many friends, it has been brilliant.
Adam Smith
I've really enjoyed it, I was looking forward to it. We're all enjoying some drinks now. My most enjoyable year was probably the last year actually, it was the most practical year. You get stuck in, get into a team, work as a team and become proper journalists.
Liam Deveney
It has been a fantastic day and I have particularly enjoyed seeing some of my fellow students. It has been great, the service was great and it made me realise what a significant achievement it is. When I walked through the cathedral, the pomp and the ceremony and meeting Lord Leveson on stage, I realised that all the hard work, stress and angst was worthwhile. I've enjoyed the course since day one, there were no negatives for me. It was a great experience, I've loved learning about journalism – how to write properly, how to sniff out a story. I've met lots of great people and worked with professional people.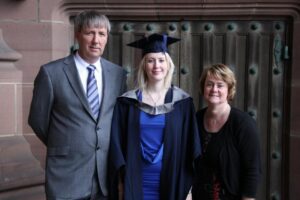 Lene Brennodden
I've really enjoyed it, it has been truly great to see everybody again, meet the lecturers and say goodbye to them before I leave. My parents are really proud, they have enjoyed the day and enjoyed being in Liverpool. I really loved the course, all of the three years. The lecturers are absolutely fantastic, their support is great. I would recommend both the course and the university to anybody.
Jessica Galley
I've loved it, it has been really great. I was over the moon to get an award – I got a first class degree anyway but then I found out that I got the extra award. It made my family a bit prouder too, it was nice to have them here and get that bit of extra recognition for working hard. I've absolutely loved the course and I'm devastated to leave.
Christina Fusco
It was great, a really good day. It has been a hard three years but I'm glad I did it all, I'm finished now and it's quite sad but I'm glad I stuck it out until the end. It was a brilliant course, I wouldn't have chosen anything different.
Stefanie Zuber
It was good, very well organised and good for the families and a nice atmosphere. It was lovely. The course was really good, we learned a lot – it is not just listening to lectures, we actually went out and did things. I already have a job, where I had my placement – they took me on straight away!
[nggallery id=24]
[nggallery id=25]
© LJMU