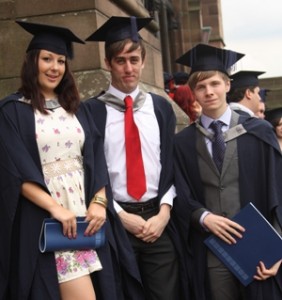 Jonathan Birchall
My experience on the journalism course has been rewarding from day one. Not only is it a programme on which you learn an awful lot, but more importantly, you meet some really great, talented people. Working on the JMU Journalism site really helped take my experience at university up a notch and I now feel prepared to go out into the world of work knowing that I've received the best professional training possible. I can't recommend the course or the city highly enough.
Beth Hockey
What a great day. It has been great to see everyone come back. My mum has been a wreck, crying at any chance. Everyone is really proud because I'm the first one in the family to graduate, so it's a big deal. We're going for a family meal now and then I'm heading out. I've loved the course. Experience wise, you can't beat it. There is so much practical work, which is great.
Adam Hicks
It has been a really exciting day and it's nice to see everyone dressed up and meet their family. It has been a nice way to round off the three years of work. I'm one of the first from my family to graduate so my parents were really proud. It has been a really good day and everyone seemed to enjoy it. I'm going to celebrate for the rest of the day and then start looking for some work.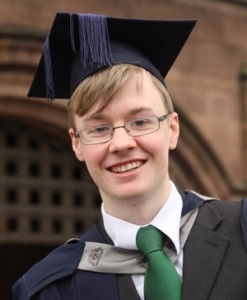 Helen Dodd
It has been a wonderful day, spending it with friends and celebrating my achievements over the last three years. I've had a great time. I was terrified going up at the ceremony but I didn't fall, which was good. I'm going to spend the rest of the day with my family. I think it has been a wonderful course and it makes you into a good journalist.
Nick McGee
It has been fantastic, to enjoy the occasion with all your mates was great. It validated all the work I've done over the last three years. My mum was crying before it even started. The course has been really rewarding, there are a lot of chances to get experience.
Andrew Hill
It's been a really good day and my parents were really proud. I was pretty nervous going up at the ceremony, but I managed not to fall over so it went smoothly. I'm going for a meal with my parents and then there's a night out planned later. I've gone into events management so hopefully I'll get a 9-5 to support that. I really enjoyed the course and I'm definitely happy I came here.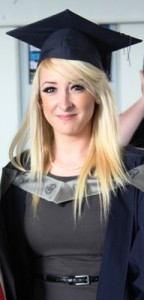 Claire Bennett
I've loved it. I couldn't possibly recommend the course more to anybody… it's got the ideal mix of practical work and theory and I've learned so much by coming here to this course. When I first came here I didn't really want to do journalism at all, but now I'm really passionate about making this a lifelong career.
Jill Foster
It's been a good day, really good to see everyone. I was nervous at the ceremony, I was worried about my hat, but it all went fine. While on the course, I realised that I didn't want to do journalism but I stuck with it. The lecturers really made me want to carry on with it. You can do so much with a journalism degree, you can do anything. It has made me realise exactly what I want to do.
Chris Bradley
The day has been fantastic, a mix of joy and emotion. It's sad because we're leaving university but it's great to graduate. I got an award and it's all culminated today, so I'm very happy. My parents have been blubbing all day and my grandma thinks I'm God's gift now! The course has been outstanding. You only get out of it what you put in. I have to reiterate that working on the JMU Journalism website will lift your marks and give you a World of Work experience.
Annie Jones
It has been really lovely, I was just a bit scared I was going to fall at the ceremony! After I got off the stage, I was more calm. But it has been a really great day. My parents are really proud. I'm heading out now for a few drinks, because I think we deserve it. I've really enjoyed the course, you learn so much.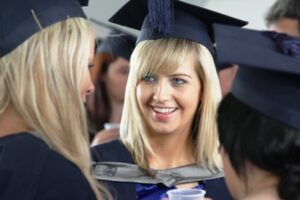 Sheena McStravick
It has been brilliant, everything I expected and more. I can't believe it's all over, that it's the end and I can call myself a journalist. I've loved every single second in Liverpool. My parents have been loving it, it was great for them to see my friends and meet the lecturers. I have loved the course, it has everything. There is a good mix of practical and theoretical.
Angela Brooks
It has been really great, it feels like ages ago since I've seen everyone. I feel a bit emotional. I'm going home now, then for a meal. I'm just going to enjoy it all. The course has been fantastic.
Andrea Rice
The day has been lovely, it was nice to see everyone in their gowns. There was an overwhelming feeling of success and happiness. The course was brilliant, I have so many options. I'm going to miss everyone.