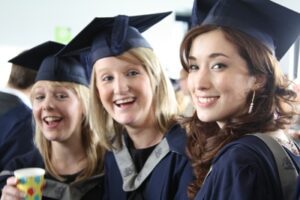 Amy Swift
Today has been brilliant, going up on the stage was such a buzz. I'm very glad I've done the last three years. The course has been fantastic, there is a lot of different journalism involved – TV, radio, particularly the website – I'd recommend it to anyone. Hopefully I'll get a job in PR, particularly the police, which is where I did my work experience.
Liz Hewitt
I have got a 12-week internship planned with GMG Radio in Salford, where we do a bit of advertising, news and presenting. I think things like JMU and also the Journalism website put you in really good stead for opportunties like that in the future. The tutors on our courses have really good contacts in the industry, which make really good work placements and jobs for the future possible.
Sam Rogers
Today has been really exciting, the ceremony was great. It's been nice to get everyone together. I thought the course was fantastic – it was a challenging yet vocational course that trained us for many things. My advice for future students would be to focus on the Journalism website and do as much as you can for it. I'm heading to London to chase the dream.
Danny Masters
It's been good, a bit surreal but it's been a really good day. It's a great course, great people.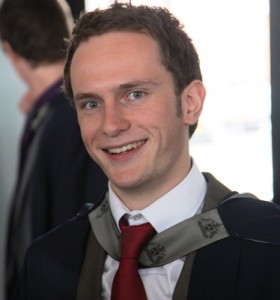 Luke Johnson
It seems so long ago that we finished university, so it's good to have it over and done with now. I loved the course. The third year was definitely my favourite, actually being given the space to do my own work. I've been working at T3 magazine for two months already, I started the day after the course finished and that's going good.
Kate Allen
I've loved it and I'd recommend it to anybody. Everyone's so close on the course and that just makes it, I think. My advice would be to get as much work experience as you can. It's so valuable. I don't think you realise it at the time, but when you come to look for a job and you have that on your CV, it's so important.
Alice-May Purkiss
It's been lovely, the ceremony was really nice, very grand, and it was quite a special occasion. Meeting everyone's parents is really nice as well. The course had combined theoretical and practical elements, it was generally a good balance. I have lots of work experience lined up.
Kelly Cornwell
How have I found today? Really, really windy actually! I nearly lost my hat about ten times. It's the culmination of three years and everyone's worked really hard to get here, so it's exciting. It's flown by, but I've done so much in those three years. I'm glad I chose the course, I wasn't really sure, but I definitely know I made the right decision now. I'd like to become a sports reporter and you might see me at the next World Cup, so who knows? I'm at MUTV at the moment. You get three years of experience and you learn a lot, not just about Journalism, but life in general.
Gary Maiden
It was a lovely day all round, it was nice to see everyone that you haven't seen for weeks, or months in some cases. I was petrified going on stage, thinking 'don't fall over'. It's a superb course. I've just got a new job at a bank, then I'll see if I can get into reporting in a few months time.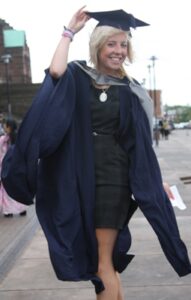 Louisa Collington
The last three years have been absolutely amazing, life-changing pretty much. I've had such a good time and I've learned so much on my course. I met some great people and it's been fab. I'm moving to London, doing a few different jobs like PR and bar work for extra cash. I'd say [to future students] definitely come to LJMU, because it's a good uni and a good city to go to. Have fun, but work hard and you'll see the results.
Ciara Mc Crory
I've had a really nice day, it's just nice to get all dolled up and see everyone. It's really weird to see everyone with their parents. It's lovely to get back all together again. I really liked the course, I loved JMU and I think the tutors are amazing. The whole atmosphere at the university is different to other ones. I'm applying for jobs in London and I'm hoping to get some sort of magazine work, it's what I want to do.
Mike Davies
It was a great day… a good end to a good three years. The course was a lot better than I was expecting it to be, if I'm being honest. I came on the course because I couldn't think of anything else to do, and Journalism sounded good, but it's kind of given me a career path and now I know what I want to do. The lecturers are really good and they give you all the help you need. It's been really interesting. Ultimately, I want to be an MP for the Labour Party, hopefully in the next ten years. In the meantime, I'm working towards that with whatever I can do, either journalism or PR. At the moment, I'm working for Andy Burnham on his Labour leadership campaign, so hopefully that will go somewhere. If there's one thing I have learned it's nothing prepares you like doing the real thing, so get some work experience. Do your research and make it's what you want to do, and ultimately you will enjoy it because it's a great course.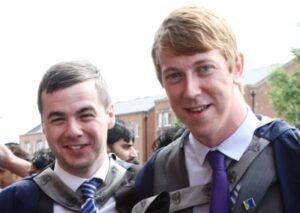 Chris Shaw
It's been fantastic, a really interesting, enjoyable day. I was a bit nervous at the ceremony waiting to go up on stage, panicking about falling over. I think everybody was the same. The course has been brilliant, the whole three years. Everybody's been so friendly and everyone knows each other, works together and encourages the others to do well. There are good tutors and good modules. There's a wide-range of stuff that you learn; practical skills as well as academic. It's been all-round a really good experience. I'd definitely say to get involved with the JMU Journalism website because it can transform your skills a lot and improve you. Just enjoy it and do as much as you can.
Hugh O'Connell
We've had an excellent three years and I feel great today. If you work hard, you'll get the results that you want. Put all your effort into it and don't look at the course as something part-time. It's absolutely excellent.