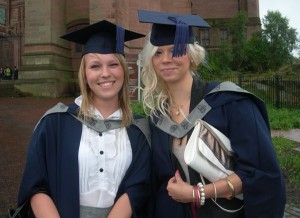 Katie Heaton
It feels really great to graduate and a little bit scary, but it's nice to see everyone again. The ceremony was very emotional. It's been really good meeting new people (at university) and doings loads of different things. My plans now are to work in PR and hopefully be very successful.
Ellen Kelly
It's surreal. It feels like it's not really happening… it's come too quickly. There are too many memories to name them all.
Clarke Crilly
I never thought this day would come but it's a very proud moment for me and my family. There were moments when I thought this would never get to this point, but it's such a relief now that's it off my mind and to finally achieve what I set out to do. I'd have to say my favourite part of the course was the third year convergence project, getting to meet new people from different groups. It's really helped me to specialise in different areas of journalism, which has been good. I think I know my skills now better than I did before and I've developed them after being at university for three years. I'm going to take a year out, clear some student debts and then when the recession calms down I'm going to look for a better job.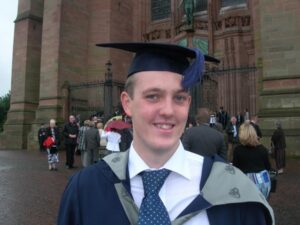 Nick Egan
It feels great to have graduated. It's been a long road but we're finally there. I quite enjoyed the World Firefighters Games that we covered. It was an interesting 10 days, filming and interviewing everyone, but it's all been wonderful. I think I have come on a lot and I'm certainly more employable now than I was three years ago. Now I just have to get someone to employ me in journalism, hopefully.
Vishal Rana
It feels good but it's sad to leave everything… it's the end of an era, but it's cool. We've got the rest of our lives ahead of us. Everything's been good… meeting new people, the course and uni, it's all been great experience. I want to be a TV presenter and that is going to happen, I can assure you. Give me a couple of years and you'll see me on telly. I had an audition for MTV and we'll see how that goes.
Emma Renshaw
It feels excellent to graduate. I'm very proud of everybody and the hard work that we've all put in to achieve this momentous occasion. Weirdly enough my best memory of my time here is probably writing the dissertation. Spending all night in the library doing it was fun and I certainly won't want to forget or repeat that in a while! I've really enjoyed my time at uni but it's also nice that it's coming to an end. It feels so rewarding to be a graduate and finally get what I wanted. I'd say without a doubt that working on the World Firefighters Games was the most rewarding thing that I have done at university and I also really enjoyed making my Northern Soul documentary for TV Final Project. I feel ready to go into the world of work now. I'm much more confident. I know what to expect when I go into an interview and what to say.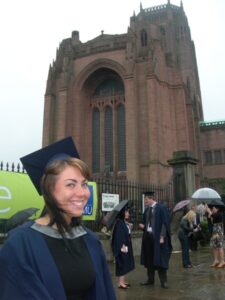 Claire Wilson
It feels really good to have finally graduated at the end of three long years of hard work, but it's all definitely been worthwhile. There have been quite a lot of highlights…. working on the World Firefighters Games last year was probably the best thing for me. Choosing TV for my Final Project was amazing because I got to go round filming everywhere. Even though it was work, it was really good fun. I think everything we have done here has prepared us well. We can actually go out and actually do the job rather than having to go through a lot of training, although obviously you are going to improve as you are working. It's been a very hands-on course and that's really good. Now we can conquer the world!
Conor Callanan
It's taken me 27 years to do it but I'm quite chuffed, I must admit. My dad never thought he'd see the day, so he's slightly bewildered and charmed and happy all at the same time. I'm happy to have done it. I moved over in the second year from a different course and I didn't really know anyone, so getting to know everybody was great. The lecturers were good and there was great camaraderie, plus I love the city. I had a cracking time here. Radio journalism would be my ideal job, but back home there are no jobs going. I'm trying to get experience at radio stations now, which is what I need to do. I have been speaking to a few friends and other presenters at Dublin radio stations and they say you've got to do days for free for six, seven, eight or even 12 months at this stage, but we'll see how it goes. That's my plan.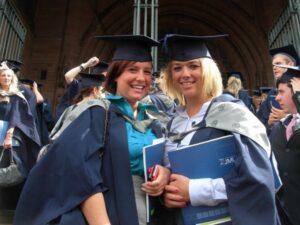 Scarlett Smith
It's a relief in some ways but I'm going to miss it as well, all the learning and especially the social side of university. It's quite scary going out into the big wide world, especially with the job market not looking great but I'm actually proud of myself and everyone. It's nice for all the parents to be proud on this day as well. Some of the girls that I have met here are going to be my best friends for life, hopefully. With the course I've met really good lecturers, learned quite a lot and become more confident as a person.
Tom Briffitt
It's a surreal feeling. It's one of those moments that you expect in life and you hope to achieve but it's kind of a weird feeling when you do it. I look forward to celebrating now. You get to meet a lot of diverse people. Liverpool is a great city to be a student in with all the music, sport and the club scene, and the uni courses as well. People say it's the best time of your life and to make the most of it and you do realise now that it's true. I'm hoping to get a job in journalism, but even if I can't do that full time I'm looking to get work experience on a placement somewhere that's related to my course to build up my CV.
Jack Davies
It feels really good to see the result of my last three years of work. I was lucky enough to be involved in the World Firefighters Games and the JMU Journalism website, which contributed to my WoW Certificate, which resulted in me getting an award for at the ceremony today. I'd like to go into journalism and I need to get more experience so I'm doing some volunteer work over the summer.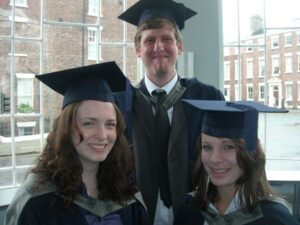 Helen Coates
It's scary to be graduating because of the economic climate out there. It's a bit sad to say goodbye to everyone, Liverpool and the university but it's exciting as well because it's the next step – we've finally gotten through education and now we're actually trained journalists who can go out there and do what we do best. It's scary but also exciting. I'm working in London for the next couple of months as a runner for a television production company. I don't know what I'm going to do after that but it's got me started.
Laura Day
It feels great to graduate…it's been a good three years and everyone has worked really hard and I'm really chuffed that I managed to get a first. I think everyone should just be happy and proud of themselves on a really memorable day. They say that when you're at university you meet friends for life and I think I've found a small group of friends that I'd really like to stay in touch with. Apart from getting a good education, I think university is about friends as well.