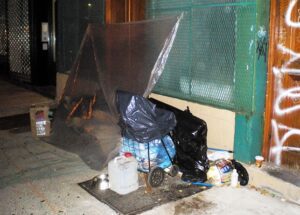 Christmas shoppers will be urged to give that little bit extra to those in need on a special charity day in Liverpool next month.
'Giving Tuesday' takes place next Tuesday, December 1st with the group behind the plan, Charities Trust, bringing the initiative to Merseyside after a successful event  in America.
The event was created in response to the shopping days 'Cyber Monday' and 'Black Friday' where an unprecedented amount of public spending takes place in the run-up to Christmas.
Charities are hoping the same buzz can be recreated for Giving Tuesday and organisers believe the people of Liverpool will back the scheme.
The Charities Trust is working in conjunction with the Whitechapel Centre, a Liverpool-based charity, with all proceeds from the day going there.
Whitechapel Charity Centre helps deal with the vulnerable and homeless people in Liverpool and Clare Lennon, Payroll Development Coordinator of the Charities Trust, praised its contribution.
She told JMU Journalism: "They do a great deal of work in Liverpool and they really do a great job of looking after the homeless, taking them off the streets and giving them food and accommodation."
The Whitechapel Centre had 2,605 people in need of aid visit it last year. The Charities Trust is hoping funds raised will help Whitechapel cope with those in need.
With a busy Christmas period fast approaching, there is an extra emphasis on sending out a positive message just before a festive period in which many struggle.
Lennon added: "Doing this right before Christmas is a great message to send out and we've worked hard with Whitechapel to give it all a real sense of purpose."
The event organisers have asked members of the public to donate whatever they can, whether its food, clothes or even for people to volunteer for the day, all donations are welcome.