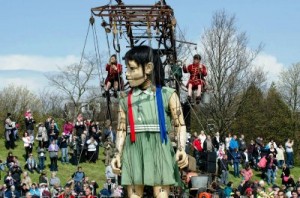 The UK's biggest street theatre spectacular, which will see the return of the Little Girl Giant and her pet Xoloto Liverpool, is looking to recruit an army of volunteers.
Around 500 volunteers are needed to fill a wide variety of roles, ranging from Giant operators to special effects assistants.
The event will take place from 23rd to 27th July and will see the huge marionettes explore the city as part of a new, moving and emotional story recollecting a time when Britain was preparing for war.
Jamie Mulgrew, 24, from Liverpool, has applied to be a special effects assistant and told JMU Journalism: "I don't know if I have got a role yet, but I hope I have. I can't wait to be involved.
"I didn't see the first Giants production, only bits on the news. I hope its half as good as what that looked like."
The production 'Memories of 1914' is Liverpool's national flagship cultural event, marking the centenary of the outbreak of World War I.
Assistant Mayor and Cabinet Member for Culture and Tourism, Councillor Wendy Simon, said: "There are so many different aspects to putting on a show like this and to make it a success it has to be one giant team effort. A hugely important aspect of this is the help we receive from members of the public.
"For Sea Odyssey we took on around 250 volunteers – this year we're hoping to double that as there is more of a focus in getting ordinary people to become part of the show."
Already around 200 people have volunteered to take part, including Beth Pattinson, 20, from York, who said: "I came to Liverpool to watch the Sea Odyssey and fell in love with the giants, this year I couldn't wait to volunteer once I heard they were coming back. I'm not sure what role I'm doing yet, but as long as I'm involved I don't mind."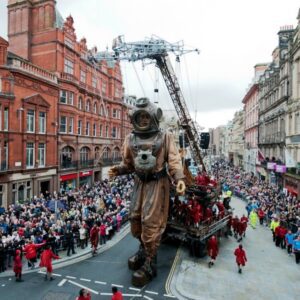 Elle Routh, 21, who took part in last year's Sea Odyssey spectacular, said she loved the experience of being a volunteer: "It was one of the most exciting things I have ever been a part of, and everyone should do it. This year I am being a runner although I'm not exactly sure what that is yet."
In 2012 Colin Bordley operated the uncle/diver giant for three days. He said: "Being a part of the Sea Odyssey was an unforgettable experience, totally unlike anything I've ever done before. It was unreal, amazing and often exhausting, but a thoroughly satisfying event to be part of.
"I feel so proud to have done this for my home city – and I'm definitely going to get my application in for this year. Now I've got to get back to the gym!"
Andrea McGuire-Seery volunteered to take part in Sea Odyssey and for three days followed the Little Girl Giant, her pet Xolo and the Uncle around the city, saying: "Being as part of the Giant Spectacular in 2012 is one of the most rewarding things I've ever done."
All volunteers need to be over the age of 18 at the time of the show, and some roles require availability for training and rehearsals.
To take part in the spectacular and to find out more information go to the website. The deadline for applications is Sunday, 1st June 2014.
Additional reporting by Chantal Dickinson