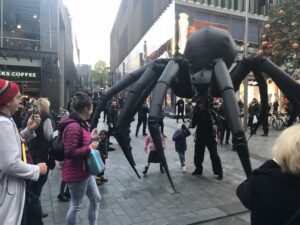 Many people have a fear of spiders and their worst nightmares grew even larger in the build-up to Halloween as a giant arachnid took to the streets around Liverpool One.
The huge puppet strolled around the centre as part of an initiative to bring more cultural and seasonal events to the shopping hub throughout the year.
The enormous black spider, named Arachnobot, used its massive eight legs to walk around Paradise Street and South John Street to interact with the crowds of people waiting to see it.
The six-year-old friendly monster combines giant inflatable skin and a complex cable skeleton, which is connected to the operator's back in order to help control its legs and lifelike movements.
The event consisted of an appearance from the creature three times throughout the afternoon on Tuesday, lasting a total of five hours.
This was the first time that it had visited the city centre.
YouTube: Lucy Jones
Timothy Davies, the Arachnobot designer, told JMU Journalism: "The reason I made the spider was because there is a lot of large-scale puppetry being done at the moment, but I feel none of it captures people's imagination because it is all very slow. You get a lot of big-scale pieces, but they're all very mechanical.
"I wanted to create something quick and large. I went with an inflatable so it's light and moves easily."
Children and shoppers were able to touch the 16-foot puppet and play while seeing how it was being controlled.
Liverpool One's Head of Communications, Laura Carter, told JMU Journalism: "We do quite a lot of events for everyone to enjoy. This is the first year that we have done more smaller events. We are definitely trying to bring more of these activities in Liverpool One.
"It's a great reason to bring the families into the city centre – it has so much to offer these days."
Arachnobot has previously toured in America, Europe and Asia – and even visited Southport last year.