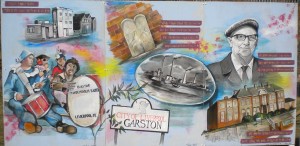 Garston has honoured the memory of famous trade union leader Jack Jones with a new mural.
A century ago, on the 29th March 1913, union leader Jack Jones was born in Garston and the community celebrated his birthday in fashion, using art to pay tribute to a beloved local hero who fought for the sake of his fellow workers.
Cllr Steve Munby unveiled a mural of six paintings by Liverpool artist Nicola Taggart, on Church Road just by the bridge that separates the Mud Men from the Village People, depicting, among others, local celebrities such as Jack Jones or Tommy McLoughlin, known as Flopper in Garston.
Significant buildings and places in the memories of the local community are also featured with some short poems.
Mary Rasmussen, Cllr for Speke and Garston ward, told JMU Journalism: "We had workshops and we invited people from the local community and children from the local schools to put their ideas forward and say what should be on the paintings, we wanted memories from Garston.
"I was pleased watching other people's reactions, their expressions and their faces lighting up, I think you get joy from that don't you?"
All afternoon locals stopped to view the paintings, reliving moments of their lives.
Another colourful piece of artwork painted by Alan Murray sits now on York Street, where the union leader was born, and recounts key moments in Jack Jones' life.
You may have come across the paintings of Nicola Taggart on the streets of Liverpool where she has been working for two years; her light coloured works contrast with Liverpool's dull red bricks. Born and raised in Liverpool, she graduated with a Fine Arts degree from John Moores University.
She told JMU Journalism: "It's always been a hobby; I used to do cartoons and caricatures of friends and my family. My teachers saw there was something there and encouraged me to keep on drawing."
Nicola, at first focusing on accurate representations, is now shifting her focus to being more expressive, she explained: "I've always aimed to make things realistic, I was inspired by impressionism and wanted to push myself in realism. But now I just want to enjoy the colours and it is all about being more expressive. So now I'm just exploring colours and texture, I also really enjoy making 3D sculptures."
The Young Person of the Year 2011 reflected on her work with the community: "Whenever there's something nice, bright and colourful that someone has put effort in, you find the community will be encouraged to look after the area.
"Some of the kids that were involved even said they'd tell friends not to put rubbish here or write their name on that. It's given them ownership on their area again.
"Community artwork uplifts the area and has a positive impact; it makes people smile and brightens up a dull boring spot of land."
Nicola is still learning, but she has plans for the future. She said: "In the long term, I want to set up my own gallery space, I'd like to have a building where I could run art workshops and have a gallery space as well as a gallery shop. We would provide a gallery space so the young artists coming through our art workshops could have different exhibitions each week."